Regular readers of my blog will know that I am slowly refurbishing my late grandparents home. So when I was asked to do a VonHaus 8 tread fibreglass ladder review, I was happy to agree. Inside the house, I have been doing loads of painting and plastering, so these ladders have been well – used. However, it was when being used externally that they became my new best friends. So read on for a warts n all review.
VonHaus 8 Tread Fibreglass Ladder Review
The thing which initially drew me to these ladders was knowing they could safely conduct 30,000 volts. My partner is an electrician, so is always finding things to "fix" in my house. Having a let of ladders handy which allow him to safely work with electrics is great for my own peace of mind. He loves the convenient screwdriver holes on top of the ladders, too.
VonHaus 8 Tread Fibreglass Ladder Specifications
With an RRP of £89.99, the VonHaus 8 tread fibreglass ladder is definitely an investment. It feels extremely well made though, and like it'll last for many years.
Here's what VonHaus have to say about it…
This durable aluminium and fibreglass ladder is non-conductive up to 30,000V

Durable Build

Its durable aluminium and fibreglass construction is fully tested to EN131 requirements, and is able to handle loads of up to 150kg. With non-slip feet to prevent slipping while in use, this is a ladder you can count on for total support while you work.

Integrated tool tray

When you're working on live circuitry, complete concentration is vital for safe working. With this ladder's integrated top rung tool tray, the tools you need will be held securely in place right in front of you to pick up without fuss.

Open dimensions – H230 x L63 x D153cm (open)

Closed dimensions – H244 x L63 x D15cm (closed)

Weight – 10.5kg

SKU: 3500124
My First Impressions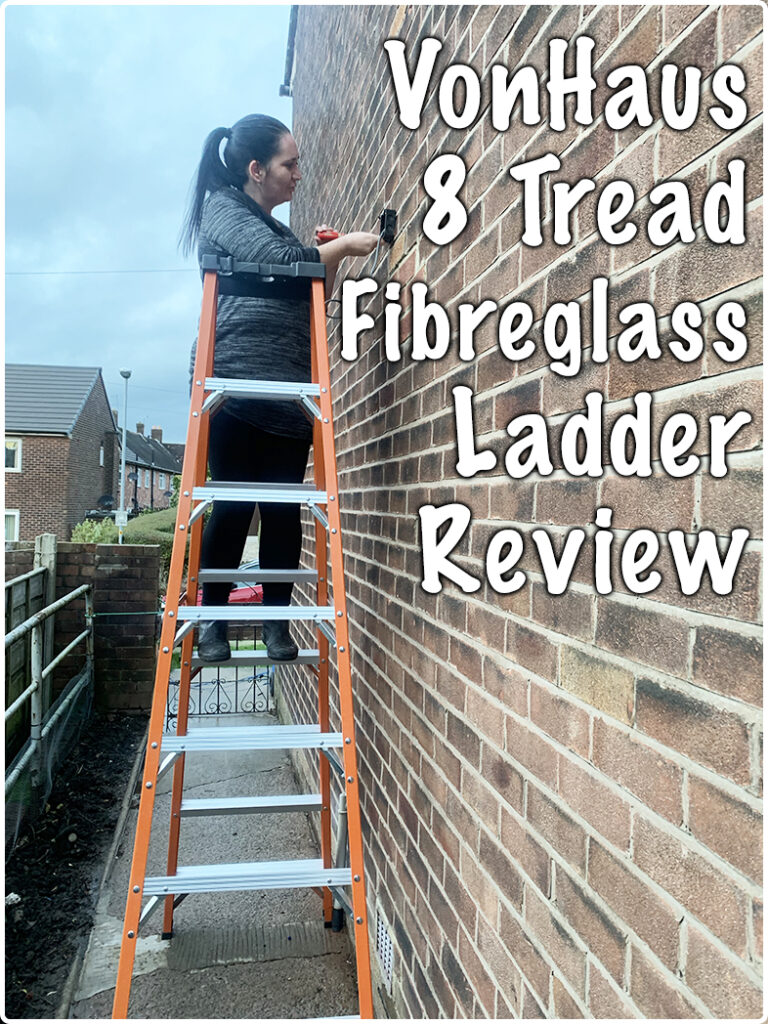 I've had the ladder for several months now. The first thing I used it for was getting in and out of my loft when I was moving items up there. I loved being able to get right up to the hatch, rather than pulling myself up from my shorter ladder, as I'd had to previously. I've since had a new hatch and loft ladder installed, but have found plenty of other uses for these ladders.
I have also used the Vonhaus 8 tread ladders to install an outdoor light. The ladder felt super sturdy, even on this breezy day. I felt safe, even when I was standing on the 6th rung of the ladder.
My Thoughts
The feet on the ladder are really grippy, and there's no movement as you climb up. (Which was a big issue for me with my old ladders). When you open the ladder up, you need to make sure the spreaders are straight, so your ladder is locked in place. If you don't do this, it's easy to wrongly assume it's open fully. This ladder is taller than a standard household set, so opens much wider. When fully open, there's 153cm between the front and rear rails.
Storing the ladder is a bit of an issue. When closed, the ladders measure H244 x W63cm, so they are too tall to stand up in my shed. If you have a garage, I'd put 3 large hooks on the wall and hang them horizontally, so they are out of the way. I managed to squeeze them into my shed diagonally, but they take up a lot of space in there.
The treads on the ladder are wide, so you feel really safe as you climb up and down it. I had no issue using the ladder without anyone else present when I was decorating. The hooks on the integrated tool tray were a big help when I was decorating, too. It was super handy hanging the paint on the top of the ladder, when I was cutting in the ceiling.
The Verdict
All told, I am really happy with the ladder. For household use, it's probably worth considering sizing down to the 6 tread version, so you can store them easier. If you have high ceilings or are planning on doing a fair bit of external work, this set is a great choice though. My electrician partner has borrowed them a fair bit over recent months, too. So I think I'd call that a win all round.