Sometimes, the kitchen can feel a little unimpressive. You spend so long creating the perfect stylish living room and cosy bedroom that the kitchen can be overlooked. It's a room that serves a purpose and nothing more. However, sleek and stylish kitchens are enviable. They ooze sophistication. When someone has an impressive kitchen, you know they mean business. Read on for some tips on how to add style to your kitchen. You won't even need to spend a fortune to do it! 
How to add style to your kitchen
Keep it bright
Getting the right lighting will instantly make your kitchen sleeker. While you might be tempted to use dim lighting to disguise any mess, you're better off having bright lighting that makes your kitchen surfaces shine (these LED kitchen ceiling lights work wonders). And hanging lights or stylish pieces belong in the kitchen too. They'll create an interesting, modern vibe like one you might find in popular London restaurants.  
Artwork 
That's right, artwork belongs in the kitchen, too. It's a great place to frame some bold, creative pieces and show off your artistic tastes. Artwork will add a splash of colour to your kitchen and boost your mood while you're cooking.  
Dress your windows
Most people overlook the windows in their kitchen, perhaps because they are often located at the back of a house, overlooking the garden. But this shouldn't mean they should be forgotten. Pick some stylish blinds or curtains that won't absorb the cooking smell and think about ways to decorate the window sill. Adding potted plants or a mini herb garden can look super cute and add personality.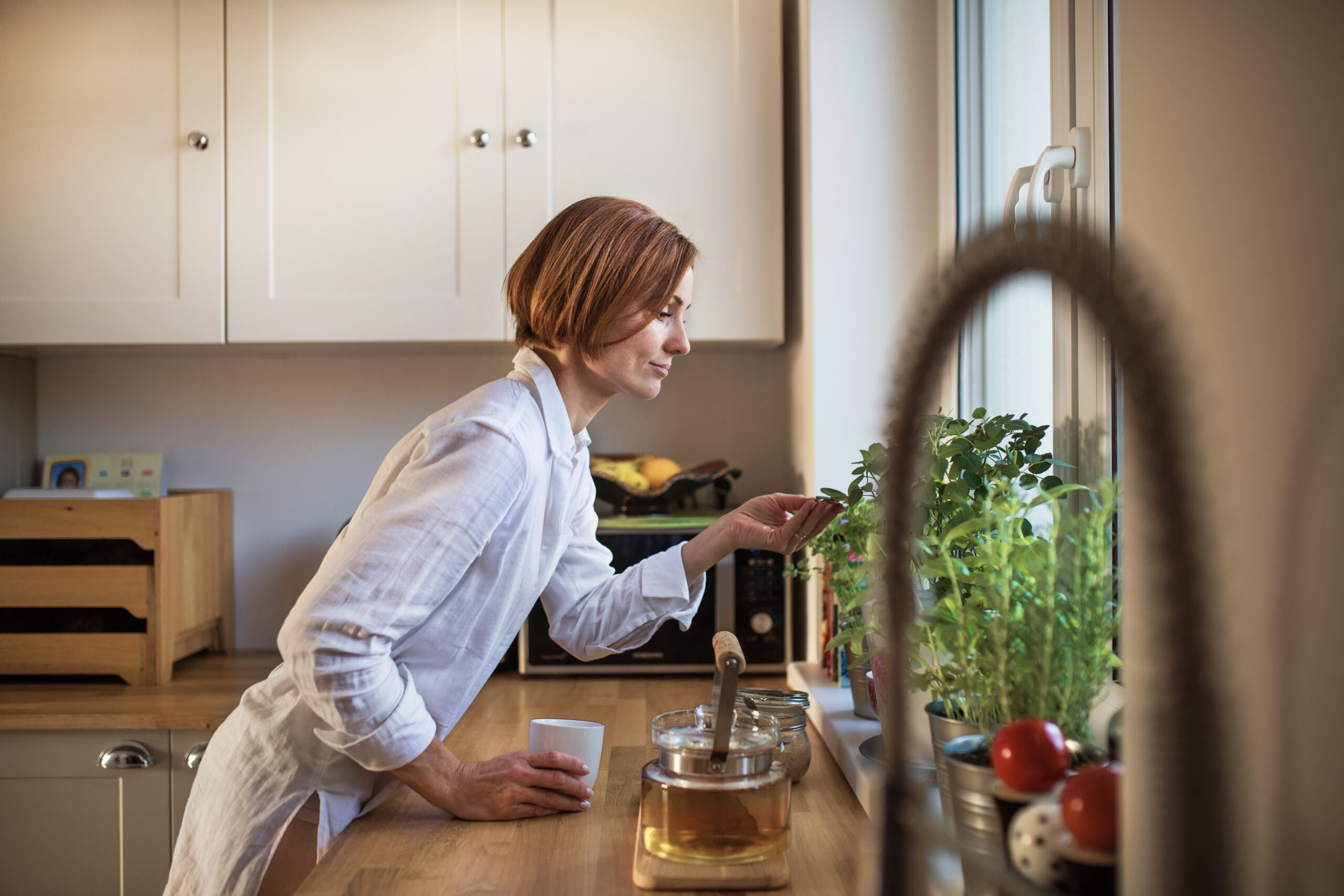 Cabinet doors
Cabinets can easily look old or tattered. The doors can become stained with food trickles or sticky from splatters. However, your cabinet doors should be seen as large staple pieces in your kitchen. They vastly change the appearance of the room, so take care of them. Make sure they are regularly painted – or consider using stainless steel for a stylish, minimalist look which is easy to clean. You can also add some quirky style to your cabinets by buying some patterned handles. 
Minimalism
The most expensive and sophisticated looking kitchens tend to be minimalist. A kitchen looks messy and unkempt if there are too many items on display. So, consider finding ways to keep your appliances out of the way. Can they be stored in cupboards when they aren't being used?   
Simple colours
A kitchen should stick to a very simple colour scheme. There's a lot going on in the kitchen, so you don't want to feel overwhelmed by oppressive walls or busy patterns. Stick to black, white or silver for a sleek, expensive look. Shiny surfaces help to keep it clean and reduce stains.
A breakfast bar
Breakfast bars are the height of sophistication – if they're done well (a breakfast bar where there isn't enough space looks tacky and messy). However, if you have the room, why not consider installing one? Islands add a level of sophistication to a kitchen and show that you have considered the layout. A breakfast bar will allow all the family to enjoy eating together, while also providing for parties and events.