We were recently sent several products to allow us to do a Little Brian paint sticks review. In case you're not familiar with the product, Little Brian Paint Sticks are similar in design to pritt sticks. Except instead of glue sticks, there's paint sticks inside the plastic tube. So read on to find out what we thought, when we put them through their paces.
Little Brian Paint Sticks Review
We received 3 products – the Paint Sticks Art Station, a 24 pack of Paint Sticks and a Paint Sticks bucket, which are all available from Amazon. I'll do an individual review of each product below, but will summarise how paint sticks work first.
How Paint Sticks Work
As I have already mentioned, Little Brian Paint Sticks work similarly to Pritt Sticks, but instead of smearing glue, you're painting with them.
Paint Sticks can be used on a variety of surfaces – Including paper, glass, tin foil, canvas, wood, pebbles and more. The best part… The paint is dry in 60 seconds! This means you can display your work of art as soon as you've finished, or layer the paint for a bolder colour!
Mess Free Creativity
As soon as I heard about Paint Sticks, I knew my son would like them. He's 9, and Autistic. While he loves to mark-make, he hates mess, so painting or messy play is usually something he's reluctant to do at home.
Sam isn't a fan of mark – making on paper, so I laid a mirror on the floor and let Sam explore them on there.
Sam then spent a good 15 minutes happily swapping between colours and creating a work of art on the old mirror. He seemed really pleased that he wasn't getting messy and loved how bold the paint was on the glass.
Other Ways To Play
The fact the paint sticks dry so quickly means you can layer them. So you could colour a sheet of paper in, then go over it in black a few minutes later. This would then allow you to scrape through the black layer to reveal a colourful drawing. You can get step by step instructions for this on the Little Brian website. Alternatively, why not decorate rocks and hide them in your local park for others to find, or gift them for Easter or Mother's Day?
I can see a lot of potential for the paint sticks when the weather improves and the kids can draw on the outside of the windows at home. While I was cleaning the mirror after Sam's mark – making, I had a great idea…
Once the weather improves, I'm going to  draw flower outlines on the inside of the downstairs window, so the kids can "colour them in" from the outside. They won't smudge the lines then, so can repeat the activity as often as they like. Perfect for the Easter Holidays!
How To Clean Little Brian Paint Sticks From Glass
Once Sam had finished his art work, we set about cleaning the mirror. Firstly, I sprayed a bit of glass cleaner on the mirror and we watched the liquid run down over the paint for around 10 seconds. Secondly, we wiped the paint off with a cloth.
It came off easily, but did leave the glass a bit cloudy (shown below). So I repeated the process with a clean side of the cloth, and the mirror was clean after that. So all told, it took around 90 seconds to get the mirror clean.
Our Thoughts
Sam is non verbal, so he can't tell me what he thought of the Little Brian Paint Sticks. However, the fact he went and retrieved the bucket after I'd tidied up the activity, and brought it to me to open tells me he enjoyed it.
Personally, I love how easily they clean up and the fact the kids can paint pretty much everywhere. Additionally, I think they are a brilliant way for kids to channel their creative side without their parents having to set aside an hour to clean up afterwards.
Finally, I love that the plastic tube is recyclable, so paint sticks aren't going straight to landfill like many toys with a short life-span do. All told, I'd highly recommend Little Brian Paint Sticks and think we'll get a lot of use out of them.
Now keep reading for each individual Product Review…
Little Brian Paint Sticks Art Station – RRP £19.99
The Little Brian Paint Sticks Art Station is perfect for tabletop use. The folding double-sided art station has a whiteboard and a chalkboard painting surface. The set includes 6 Chalk Sticks, 6 MINI Paint Sticks, 10 sheets of A5 paper, and 1 duster.
The included paint sticks are much smaller than the ones included in the other two sets we received. (Pictured side by side below). The mini paint sticks are more lip balm size, whereas the standard paint sticks are like standard Pritt Stick size.
The Art Station is portable and easy to fold and store. It has integral storage space for the included paint sticks, and also has a clip for securing sheets of paper when in use. I think it is best suited for children aged 3-7, due to the size of it.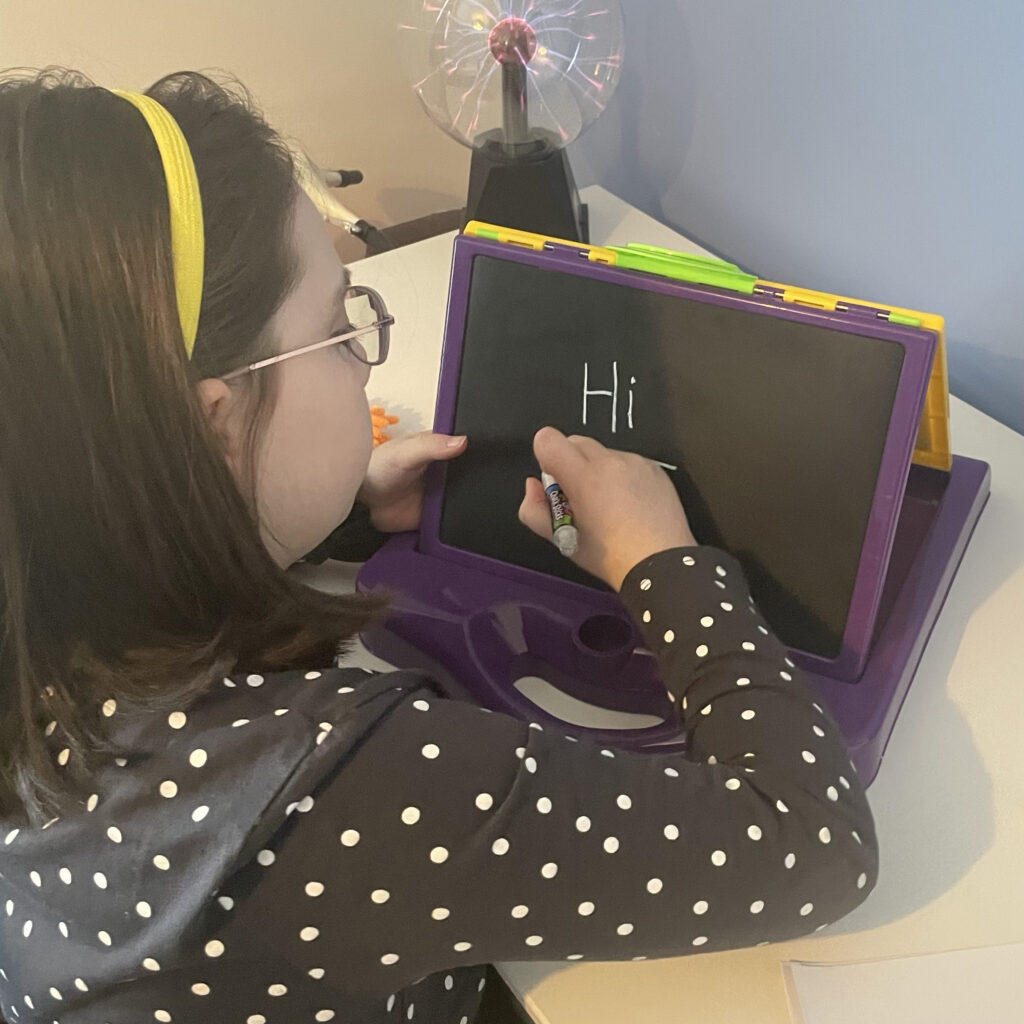 Older kids will still enjoy playing with the art materials, but they'd probably be comfier using standard paper on a table. My 8 year old said she liked the Art Station, but it wasn't at a comfortable angle for her to draw onto. She did love the feel of the chalk sticks though, and enjoyed using the chalk board side to write sums on.
Little Brian Paint Sticks Bucket – RRP £12.99
The Paint Sticks Bucket contains 20 assorted paint sticks. These include 12 Classic Colours, 6 Day Glow Colours and 2 Metallic Colours – Silver & Gold. They can be stored in the tub between uses as the lid can be retained for convenient storage. (Pictured below – left).
The Paint Sticks are chunky, but do have a slight point on them to begin with. This will flatten quickly if your child writes in a fist – grip hold (like a toddler does). Older kids will naturally hold them like a pen though, so the point should remain in that instance.
I'd highly recommend this set as an introduction to Paint Sticks. It's a good value product which would make a great gift, when teamed with paper.
Little Brian Paint Sticks Assorted Colours Pack of 24 – RRP £14.99
The Assorted Colours Paint Sticks Pack contains 24 paint sticks. (Pictured above – right). You'll get 12 classic colours, 6-day glow colours and 6 metallic colours. This set is great value and the included colours (shown above) provide a good variety, so can be used for many activities.
The Paint Sticks are all chunky and a good size for those who are learning pen control. They are a bit too big for precise colouring or painting, but great for a quick, fun doodle. Personally, I'd say they are ideal for kids aged (or working at the age level) of 3 – 7 years. Older kids will still enjoy doodling, but may get frustrated at the blunt tip of the paint stick.