Regular readers of my blog will already know I have two bonkers Boxer dogs. They've been causing chaos for well over 3 years now, and I wouldn't be without them. So when Royal Canin got in touch about their "Perfect pet weight" campaign, I was keen to find out more. Read on to find out why it's important to monitor your pet's weight, and how to safely help your dog gain weight, should you need to.
FYI: This post is in conjunction with Royal Canin UK & IE but all thoughts are my own.
How To Safely Help Your Dog Gain Weight
Responsible Dog ownership often involves regular visits to the vet. Between immunisations, spaying, flea and worm treatment, you're soon on first name terms with your chosen Vet. One thing which occurs on every visit is your dog being weighed. Until recently, I'd always assumed this was just so they knew what dose of medication they needed.
According to Royal Canin… "We know that over half of cats and dogs in the UK are now overweight or obese, with nearly 40% of growing puppies being overweight too*. Worryingly, only 15% of pet owners recognise this and 81% of dog owners believe their dog is an ideal weight."
Those figures really surprised me. I've owned both of my dogs since they were pups, and the first thing our Vet told me was to always feed them the amount of food shown on the packaging for their weight. I have always stuck to this. However, a few months ago, I noticed one of my dogs was looking a little underweight, so I contacted the vet.
Speak To Your Vet About Pet Weight Concerns
After a consultation, we worked out that Minnie's weight loss was probably down to the fact she was getting exercised more during lockdown. I hadn't thought to increase her food portions, and she was burning off more calories than the average dog.
The Vet also told me the ideal weight range for Minnie was 30-35kg. She worked this out using Minnie's previous weight and her current Dog Body Condition Score (or B.C.S.), which was 3. This is the method Vets use to determine your pet's ideal dog weight. Minnie had been at B.C.S. level 4 when she had weighed 30kg. However her current weight of 28kg took her into the underweight zone.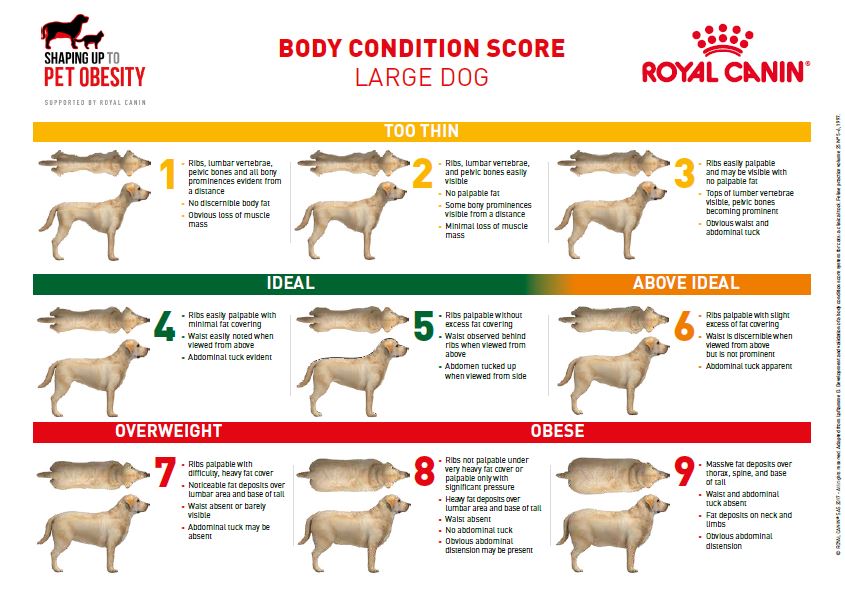 So on the back of that, I was advised to give Minnie some extra protein and healthy fat, in between her main meals. She was already having a dry dog food which was giving her everything she needed, nutritionally. However, the Vet said feeding her more of that could cause her to have too much of some vitamins and minerals in her system.
PLEASE NOTE: You should always speak to your dog's vet before tweaking their diet to increase their weight. Most dry dog foods provide everything your dog needs nutritionally. So adding extra food, without veterinary input can lead to other health issues. These can include your dog having excessive amounts of vitamins and minerals in their system, or obesity. Minnie's portions and weight were both carefully monitored to ensure she didn't gain too much too quickly, or have excessive vitamin or mineral levels in her system.
How To Tell When Your Pet's Weight Is Healthy
Within a week of adding chicken, occasional fish and a teaspoon a day of coconut oil to her diet, Minnie was looking much healthier, and seemed happier too. We returned to the vet for a weekly weigh in, to track her progress. We saw the Vet after 6 weeks, once Minnie had gained 2.5kg.
The Vet was happy to see Minnie was back within the ideal weight category. Her fur was also looking much healthier, by this point too. The Vet said this was probably down to the Extra Virgin coconut oil she was having. She was back to her usual happy, cheeky self. She'd even managed to leap up onto my son's cabin bed, which is a 5 foot jump! (pictured above).
Now that Minnie is in the ideal weight range, I keep an eye on her shape myself using the Body Conditioning Score system. She is having more of her complete dry food every day, and the additional foods have been stopped. This has meant that Minnie is now maintaining a healthy weight and shape.
Finally, please remember that you should always follow the feeding directions on your dog's dry food packaging. Also, weigh out their food and if your dog is looking underweight, then speak to your vet.