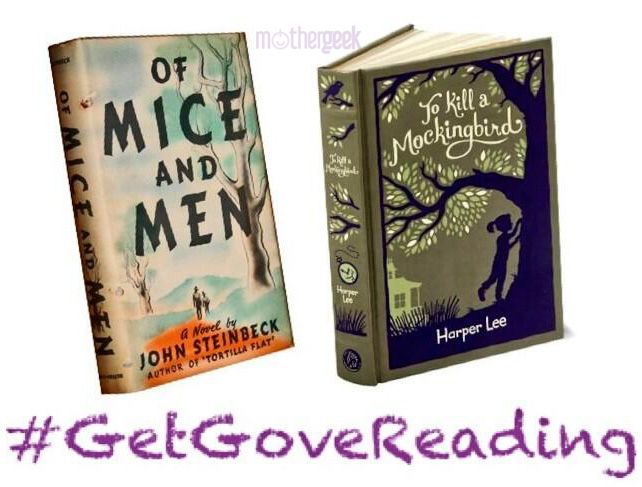 I have read in the Guardian today that Michael Gove (Education Secretary) has axed two of the most powerful books in the GCSE English Syllabus. "To Kill a Mockingbird" – written by John Steinbeck; and "Of Mice and Men" – written by Harper Lee are no longer counted as suitable because the authors are American!
Gove claims this move is a bid to get UK children studying BRITISH literature. Steinbeck and Lee both speak English as their first language, and both novels were printed in English originally, but it seems Mr Gove doesn't feel them English enough to be studied in the UK…?
In case you haven't read the books yourself, here's a bit of info on each one, to help you understand the irony of this situation…
Of Mice And Men is set in California during the Great Depression. It gets its title from a Robert Burns Poem – you know… one of the most famous British Poets…? It is one of only a handful of classics, written in the 3rd person. (Jane Austen's Pride and Prejudice being the only other example which comes to mind). This makes it hugely important in my opinion.
To Kill A Mockingbird is set in the 1930's, in Southern USA. It covers Racism as well as justice (or a lack of it) amongst other things. I don't want to get too deep into the content of the novels here – I'll save that for another time!
Perhaps it's just me, but removing American Authors from the syllabus in favour of British ones seems a bit racist? It's also a bit worrying that a book showing how corrupt the law and justice system can be has also been removed. It's like the government (or Michael Gove at any rate) don't want the idea of a corrupt government being planted in our childrens' minds?
OCR, one of the UK's largest exam boards have already left Harper Lee's To Kill A Mockingbird and and John Steinbeck's Of Mice and Men out of the syllabus. Paul Dodd, of OCR linked the move directly to none other than Mr Gove himself – stating "Of Mice and Men, which Michael Gove really dislikes, will
not be included".
A statement from the Department for Education insisted that it was not banning anything, but let's be realistic here… How many Teachers have enough time to add an "optional" book to their lesson plans? They are so hard pressed to get those boxes ticked, that they won't be able to spare weeks of their precious lesson time on optional reading in year 10 or 11. I can't see those novels having the same impact on a class of 30+ giggling 11-13 year olds as they would older pupils. I suspect Gove was thinking the same thing, which is why he's opted to change the GCSE guidelines, rather than outwardly ban the novels from schools. I am a huge fan of the British classics, but I feel that To Kill A Mockingbird and Of Mice and Men are more important to this generation than the novels they'll be reading instead.
Perhaps teachers should all start opting for George Orwell's "Nineteen Eighty-Four" to tick the the "Fiction or drama from the British Isles from 1914 onwards" box, as per the new guidelines…! Hang on – Orwell was born in India wasn't he? Will his novels be off the reading list too, once Gove realises he wasn't born here?
What do you think? Did you read either of these two texts as part of your GCSE's? Are you glad to see them go, or do you think Michael Gove has gone too far this time?
Check out #GetGoveReading on twitter to see what everyone else makes of this move!