Last year, I made the kids a Christmas Book Advent Calendar. If you're wondering what that is, let me explain… You wrap up 24 different books and let your child(ren) open one a day from 1st to 24th December. You then sit down and read the book together. Our Book Advent looked like this on 1st December…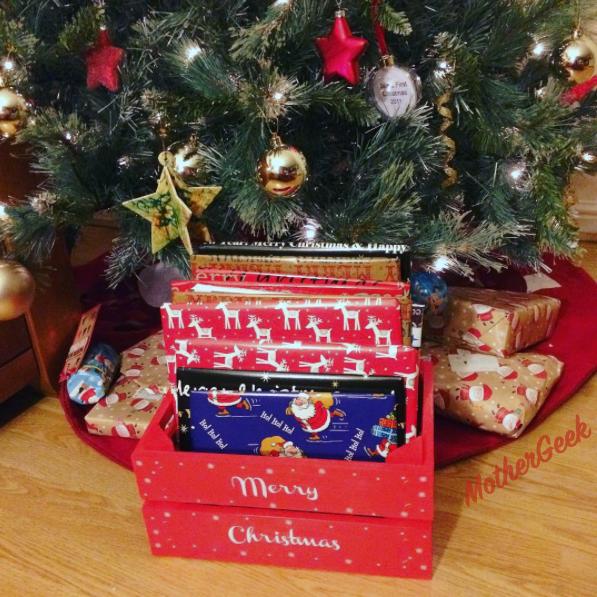 Planning A Christmas Book Advent Calendar
Some people buy new or used books, while others wrap up books they already have. Additionally, some people include library books in the mix as well. (I'd use those at the start of December though, to avoid late fees and to get the pick of the Christmas books).
Last year, I only included Christmas stories. Some were traditional tales, (Like the Nutcracker, The Nativity etc) others were more modern. Several of the books were ones we had from previous years. Additionally, I bought some new ones to include as well. After Christmas, I packed up the books and put them away, ready for this year.
I know that the kids have outgrown quite a few of the books we included last year… So I have just ordered some more to bulk up the collection and to make sure there are some new stories in the mix for this Christmas Book Advent Calendar.
Videos
Last year, I did an Advent book reading on youtube for every day of Advent. So that people who didn't have their own box of books could still hear a different festive story each day.
I chose to use my super gorgeous "Merry Christmas" crate from Plantabox to store our Advent Books. Once it was empty on Christmas Eve, I popped the children's Christmas Eve treats into it, and reused it as their Christmas Eve box. (It contained new PJs, home made Snowman Soup and T'was the night before christmas book). I can't wait to get the Christmas Crate out again this year!
One of my friends wrapped a cardboard box up in Christmas wrapping paper and used that to store their Christmas Book Advent Calendar books. It still looked great under the tree, and it cost them next to nothing, too!
When I was looking for books, I picked up bargains in the run up to Christmas. Already this year, I have managed to get 10 books for £10 from The Works. I got 4 Christmas books for the Christmas Book Advent Calendar box. Plus 6 non Christmas ones as stocking fillers, all for £10. (They should have been over £60 at full price). I also kept an eye out for Christmas Books on Amazon and grabbed a few bargains from there, using my Prime membership.
I know it's still October, but it's only 6 weeks today until the start of Advent – EEK!!
Do let me know if you're planning on doing a book advent for your children this year!