Before I got married & had kids, I used to go on holiday with the girls almost every year. We mainly stuck to the party resorts – Faliraki, Kavos, Las Americas, Magaluf. My first girlie holiday was to Faliraki in May 2001 – I was 17, and went with my two best friends. We all had to get written permission from our parents, as we were all only 17 at the time! My two friends turned 17 a couple of weeks before we left Manchester airport!
We spent the day time on our girlie holidays sleeping and topping up our tans getting sunburnt round the pool or on the beach. Our evenings involved a lot of alcohol and dancing to cheesy tunes. 3 for the price of 1 on the biggest glasses of vodka and lemonade I've ever seen – it's a wonder we didn't get alcohol poisoning! I usually came home a week later, looking like a human dot to dot – the Mosquitos ate me alive every time!
I was looking through my holiday photos last week, laughing (and cringing) about some of the things we got up to. Now I am a mum myself, I'm worried about my kids' parent free holidays.
I can imagine Sydney in 15 years' time pricing up flights to Benidorm to save a few quid – just like we did! I am dreading it! Will she be dancing on the bar to get a free shot…. Drinking ouzo from water pistols on booze cruises, drinking fishbowls full of who knows what.
What can I do though? Do I become the biggest hypocrite on earth and stop her going? Do I book a family holiday and let her friends join us so I can at least keep an eye on her? Or do I just suck it up and let her go?
Do I regret going on the holidays myself? No. I always had an amazing time and learnt a lot about myself during those holidays. I was pretty irresponsible at times though. I guess I'll have to make sure I teach Syd to be more responsible than I was… Or I could send batman with her to be her bodyguard!
I have to say, some of my best memories are from those holidays! My friends will probably kill me for sharing most of them, so I will share some of our fancy dress shenanigans with you instead!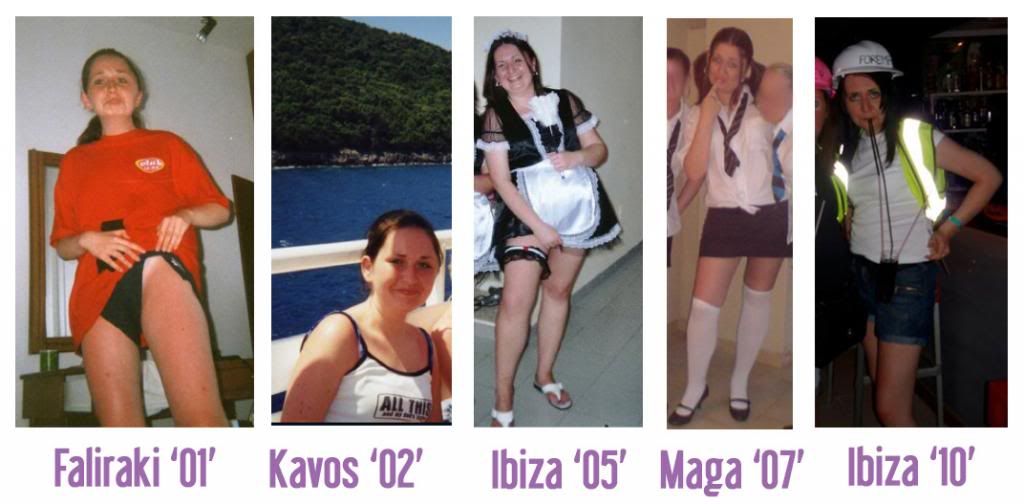 In 2001, I got so sunburnt that I actually blended in with my red Tshirt. In 2002, I was so ill from the night before, I barely moved the entire time we were on the booze cruise. In 2005, we dressed up as French Maids when we went to ibiza! In 2007, we dressed up as school girls in Magaluf. I'd fell the night before and could barely walk, but still hobbled down to the strip for some liquid pain relief! In 2010, it was my BFF's Hen Do. Six of us went to Ibiza for her hen weekend, and we dressed as builders, complete with Hi-Vis vests and hard hats! We also had utility belts which held our booze and I made myself an XXL straw for hands free boozing. See – I've always been a geek!
What about you? Are you dreading the day your child(ren) say they are off on their first holiday with their friends?