A favourite of mine during Winter has always been Black Forest Hot Chocolate from Costa Coffee.  Sadly, they only sell it during Winter – and it's pretty expensive.
For my birthday last year, DaddyGeek did some digging to find a recipe, and source the ingredients, to make our own at home. After some refinements and experiments, we now have 'the perfect recipe' (in my opinion!)
This has become a firm favourite at home, and something we both enjoy most evenings.
To make Black Forest Hot Chocolate, you will need;
250ml Hot (But not quite boiling) Milk. We use skimmed, but any is fine.
2 Heaped Teaspoons of Cocoa (Do NOT use Drinking Chocolate – it's not the same!)
2 Teaspoons of Sugar (according to taste)
3 squirts of (30ml)
Generous amount of Squirty Cream
10ml
The above measurements are based on an average sized mug – I have used 16oz Mugs (the large Starbucks 'Venti' style) in most of the below photos,  which calls for double the above measurements. The final photo is made using the above measurements though.
Heat the milk first – 3m 30s in the microwave works well. While that is heating, add the cocoa (1), sugar (2) and blackberry syrup (3) to the mug.
With 1 minute remaining on the microwave time, add some of the milk to the mug and return the jug to the microwave to finish heating.
Mix the cocoa, sugar and blackberry syrup with the added milk to form a thick 'paste' (4). It should be smooth, but not clumped together.  If it does clump, add some more milk. You're looking for a consistency that matches that of a McDonalds chocolate milkshake.
Once the milk is ready, add half of it to the mug and stir well (5), then add the rest of the milk and stir again (6). If you have a milk frother or a small whisk, that'll help you get even more bubbles into your drink. I used a cheap
to get to the consistency pictured above – right.
Almost Ready
Next, add a generous amount of squirty cream according to personal preference. Add the cherry syrup to the top of this, spreading it out like you would on ice cream. Your Black Forest Hot Chocolate is now ready to enjoy – unless you want to add the optional chocolate sauce. I used
in the below photo.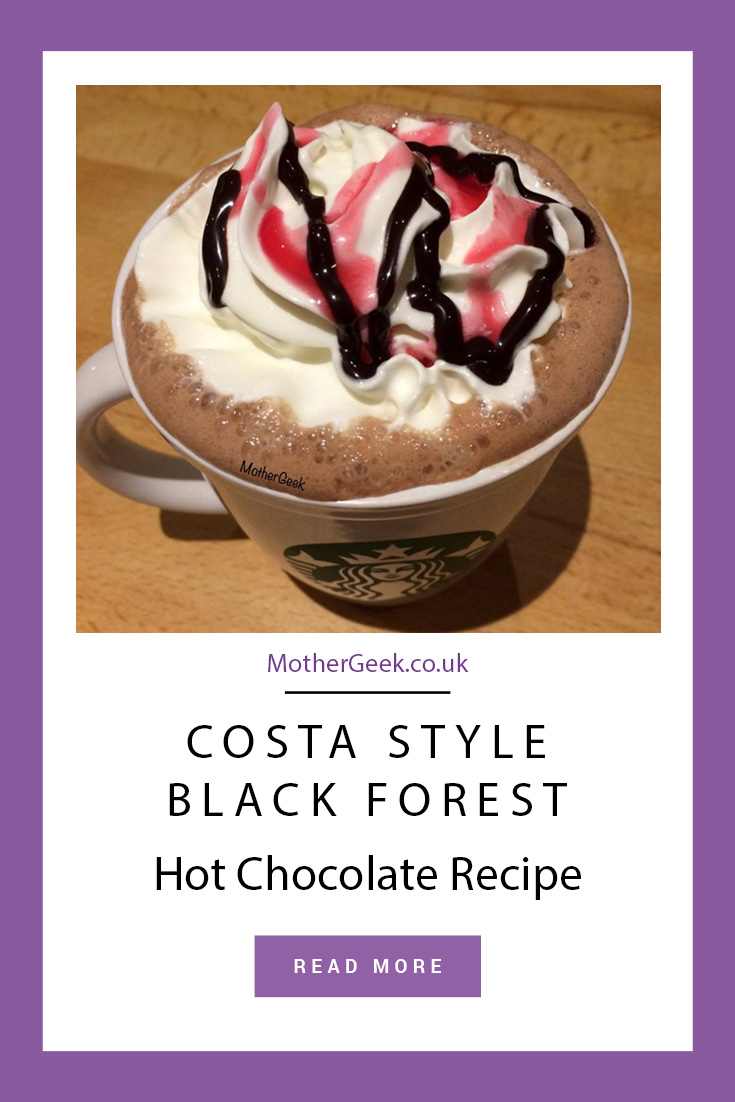 I personally prefer my Black Forest Hot Chocolate without the chocolate sauce, as I find it a little sickly with it.
I originally wrote this post in 2013. Today, I have republished it after replacing links to the products. I am also linking up with Blogtober's "Perfect Recipes For You" prompt, for Day 16. You can check out my other Blogtober posts here. You can also find blog posts from other bloggers via the Big Family Chaos linky. Just click the badge below.