It's no secret that I'm a complete bookworm. I'd much rather spend my downtime reading than watching TV. Way back when this blog first started, I even ran a kids book club linky, for fellow parent bloggers to link up their child(ren)'s favourite story blog posts. During lockdown, I have found myself reading more and more often, so have decided to start doing a monthly round up post to share some of my favourites. Read on to find out what are my must read books for Feb 2021. Some have been around for a while, others are shiny and new.
Must Read Books For Feb 2021
FYI: Some of the must read books for Feb books I am about to share I've been gifted copies of. Others I've bought.
I used to be a die hard physical book person, but then my 20/20 vision became a thing of the past. So now I prefer my Kindle, as the backlit screen and font size adjustment make reading a lot easier for me.
(Although paperbacks are still best for reading in the bath), don't you agree? 
So without further ado, here's the first of my must read books for Feb 2021…
Close Your Eyes by Rachel Abbott
Close Your Eyes by Rachel Abbott is released on 11th February. It's the 10th book in the Tom Douglas series. I was given an early kindle copy, so I could share my thoughts.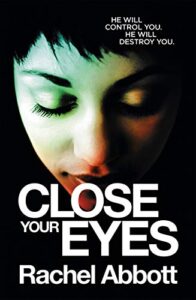 If you're not familiar with the Tom Douglas series, I'd recommend you start at the beginning, with, "only the innocent" – which is free on Amazon Unlimited. Tom's a DCI for Greater Manchester Police, who is tasked with cracking some of the City's murder and abduction cases.
BIO: This story begins with Police looking for the killer of Genevieve. A "trophy wife", who loved to spend her husband's money and brag about her life with her "friends". Before long, the Police notice one of her husband's employees, Martha has vanished. She has a motive for Genevieve's death, so they begin hunting for her.
The story is then split between flashbacks on Martha's life, her current situation and the police hunt to find her.
My Thoughts:
As always, I loved Rachel's writing style. The twists and turns had me holding my breath on more than one occasion. It's an intricate storyline, which is addictive to the reader. I found myself reading late into the night on several occasions, desperate for answers. I'd give it 5/5.
Rachel Abbott is definitely up there in my top 5 writers, so I'd definitely recommend this series to you. While it will, in theory work as a standalone, you'll have a better understanding of the police team if you start from the beginning with "only the innocent". Close Your Eyes is available from 11th February in paperback or kindle. It's free to Amazon unlimited readers too, so definitely check out their free trial, if you don't already have it.
Another Us by Kirsten Hesketh
Another Us By Kirsten Hesketh is available in both paperback and kindle. (I was gifted a copy via Britmums to share my thoughts).
BIO: "What if Emma isn't the person she thought she was?
Her younger son has just been diagnosed with autism.
She's accidentally quit her job.
The marriage she was dedicated to suddenly seems like a sham.
She's pretty sure that she is going to have an affair with a hot new dad at the school.
The only thing that stays the same is everyone else. Emma realises it's not them – it's her. But if she's not who she thought she was, can her old life fit in with the new Emma?"
This book starts with Emma's husband making a throwaway remark about 8/10 Autism parents ending up separating, and Emma becomes obsessed by that, as her life implodes on her.
My Thoughts: 
Regular readers of my blog will know my son is Autistic. I'm also divorced from the kids' parents, so I found the book relatable from the start.
This book is an emotional rollercoaster. I found myself laughing at Emma's antics one minute, then cringing or feeling sad the next. It took me a little while to read, but that's because it was paperback, rather than kindle, so I was restricted to reading in the daytime. All told, I'd give it 4/5. It's just 99p on Kindle, so definitely not an expensive choice.
Off Beat by J.C. Hannigan
Off Beat By J.C. Hannigan is book 1 in her forgotten flounders series. It's available in Kindle or paperback format. (I was given an early release Kindle copy, in order to review ahead of publication). 
BIO: It's been nine years since Calum Jacobs, the frontman of The Forgotten Flounders, has returned to his sleepy east coast hometown.
His decision to bail on his post-graduation plans to tour the world with his punk-rock band infuriated his father.
He's also been too afraid to face Harper Morrison; the girl he left behind. They had plans to go to college together, but the moment he boarded that plane, choosing a different life for himself, Harper had to make her own path…and it didn't include chasing down a man who'd left her.
When Cal is called back to attend his grandfather's funeral, he has no idea the shocking secrets that await him…
My Thoughts:
I'm a big fan of J.C. Hannigan's work. I've read all 15 of her books, and reviewed many on here, previously. If you like a steamy romance, but without the weird 50 shades style antics, she's your gal. Her books are all set in Canada, so the pace of life is completely different to the UK.
Off Beat follows Cal and Harper's story of reconnection. It's a little predictable in places, but is a wonderful pick – me – up in these less than happy times. I read the book in 2 days, so it's safe to say it held my interest. You can read it for free on Kindle Unlimited, right now. And non subscribers can get a 2 month free trial of Amazon unlimited at the the moment, so it's well worth giving it a go. I'd give this book 4/5.
Bridgerton: The Duke and I – By Julia Quinn
Bridgerton: The Duke and I – By Julia Quinn is, of course book 1 in the Bridgerton series. Unless you've had your head in the sand, chances are you've heard of (or been addicted to) the new Netflix series! I'm embarrassed to admit I didn't realise it was based on a book until I'd finished binge watching it.
BIO: it's 1813 and we are surrounded by London's elite. The Bridgertons are one of London's well respected families. Viscountess Bridgerton is a widower and her main goal in life is to see her 8 children happily married. This book follows the story of her eldest daughter, Daphne's relationship with The Duke of Hastings, Simon…
"By all accounts, Simon Basset is on the verge of proposing to his best friend's sister—the lovely and almost-on-the-shelf—Daphne Bridgerton. But the two of them know the truth—it's all an elaborate ruse to keep Simon free from marriage-minded society mothers. And as for Daphne, surely she will attract some worthy suitors now that it seems a duke has declared her desirable."
This will – they, won't they tale has now captured the attention of millions of Netflix fans.
My Thoughts:
Honestly… I am struggling to get into this book. I've read about 20% of it now, and am not yet as hooked as I thought I would be. Loads of friends have said it's a great read though, so I'll stick with it (for now). I can't give it a score yet as I haven't finished it. I'll update this post in due course, though.
Finally, let me know in the comments what must read books for Feb you'll be reading this month.
*Please note: Affiliate links are used within this blog post.