If you read my blog regularly, you'll know I'm a big fan of camping. My hubby is definitely not, though. (He loves his creature comforts far too much)! I have taken the kids camping by myself a few times now, so today I am sharing my tips for solo parent camping. I am by no means a camping expert, but hopefully these tips will come on handy if you're considering solo parent camping!
Ten Tips For Solo Parent Camping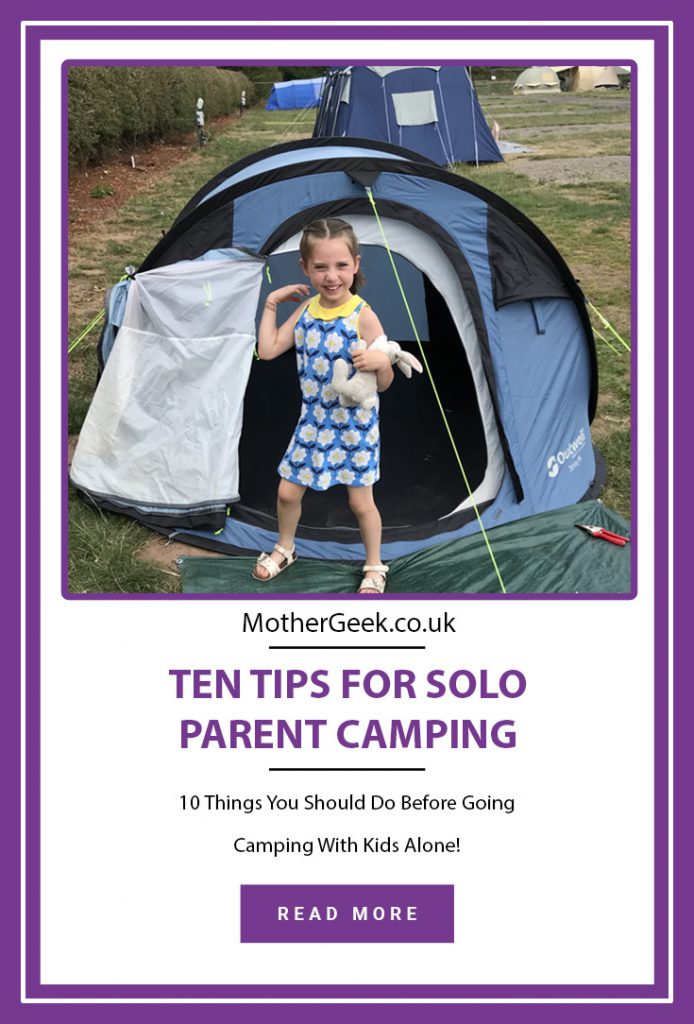 Practice pitching and packing up your tent before you go!
The biggest worry for me has always been getting the tent pitched by myself. The last tent I got was a 4 man Vis-a-Vis style one. It was a great tent, but impossible to pitch on my own. It was so hard, I ended up borrowing my sister's pop up tent rather than using my own! I was recently sent a Coleman Valdes 4 Fast Pitch Air Tent to review, and I did my practice pitch and pack earlier this week. Feel free to watch this video to see how I got on!
Research Your Campsite
I spent a great deal of time finding the perfect campsite for us to visit the first few times. It's under an hour away, you can choose your pitch in advance, and there's a play area and cafe bar too. It's also small – there's only 20 camping pitches, so I knew I wouldn't be worrying about my daughter getting lost. I chose a pitch which allowed me a clear view of both the play area and the toilet block from our tent. This meant I could let my daughter play on the play area without having to stand around there all the time.
Get Warm Sleeping Bags
Our 1 season sleeping bags weren't warm enough for August in North West England. The days we were camping were 28 degrees, but the nights were cold, as there was no cloud cover. I have replaced out 1 season bags with 3 season sleeping bags this year. You can always layer up Pyjamas or blankets if you don't want to replace your existing bags.
Take Regular Bathroom Trips And Consider A Potty
We were lucky, and I could see the toilet block from our tent. If you've got quite a way to go, it's worth making regular trips as a family. This way, nobody should be desperate to go, just as you start making lunch, or are falling asleep. It's also worth considering packing a potty for middle of the night wee wee's for the younger family members. It'll stop you having to drag all of the kids out of bed if one person needs to go!
Consider Your Meals In Advance
My kids are both fussy eaters, so food was always going to be an issue. I invested in a bread toaster, which meant I could at least keep them full on toast! It was definitely a staple for us all, and £5 well spent! I packed eggs, so I could do scrambled eggs or omelettes, as well as several cans of baked beans.
Our campsite had a communal freezer you could use, so I put freezer blocks in there. This meant I could keep my cool bag cold, and also stop the milk and margarine turning. I took small cartons of long life milk for brews, so that I wasn't dealing with sour milk. A 500ml carton was perfect for a couple of brews for me, and a glass of milk for my daughter.
Buy 2 Cheap Washing Up Bowls
Our campsite had dish washing facilities, which was great. It was a pain carrying everything over there though, so I have bought 2 cheap plastic washing up bowls. I'll use one to store clean dishes, and the other for dirty dishes. It'll be easier to carry them to and from the sink area, and won't take up much space in the car, once they are stacked and full of the pans, cutlery and crockery. If you have a decent storage area for your clean dishes, you'll only need one bowl.
Make Sure You Have Enough Seats
Camping chairs are great, but they take up a fair amount of boot space. Inflatable chairs are a good option, if you don't have much room in your car. When deflated, they can fit in a much smaller space than a folded chair can.
If you want to really utilise the space in your tent, these inflatable sofa beds double as chairs in the daytime, and fold down into air beds at night. This will free up more space inside your tent during the day. Make sure you triple check the measurements will work inside your tent though!
Consider Activities In Advance
Try to pack some fun activities to keep everyone occupied, which won't take up much space in the car. A pack of cards is small, but it offers many fun options – especially if you have a camping table. Playing cards are great if there's a rainy day while you're away. If you have a table, you can stack them into a pyramid, or teach the kids how to play SNAP! Patience or Go Fish! Dominoes are another camping favourite. I used to love playing domino rally with them when I was a kid. This is something the kids can be doing while you're cooking.
One important thing to note is: You should never blow bubbles around tents, as the liquid may destroy your tent's water resistant layer. A football is brilliant fun too, if there's a space to play on the campsite. If there isn't, a Velcro throw and catch game will be a good alternative.
Keep It Fun
It's easy to keep spending money to keep the kids happy, but I am usually camping on a tight budget. I keep things fun for the kids by joining in with their games. We also do things like toasting marshmallows in the evening, and telling stories. The kids love to stay up and watch the stars too. This is one of my favourite parts of camping. Seeing the amazed looks on their faces as they snuggle up in their sleeping bags watching the stars twinkle. It really does make all of the stress of doing it alone worth while!
Bribery Isn't Bad
Packing up is usually the most stressful part of solo camping for me. The kids usually don't want to leave, and make it as difficult as possible for me to pack up. This is where I pull out the big guns. I don't feel even slightly guilty letting them have their tablets so I can pack up in peace. I have even been known to bribe them with the McDonalds drive thru on more than one occasion too. "Let me pack up now, and we can have McDonalds for lunch once we are almost home". That one hasn't failed me yet.
I hope these tips are useful for you! Do let me know in the comments if you have any more tips for solo parent camping! Finally, check out more of my camping content here!