If you read my blog often, you'll probably already know we have two bonkers boxer dogs – Monty and Minnie. Boxers need LOTS of exercise. Every day, we either take them for a 5km walk, or they go to doggy daycare. Now it's getting colder, it's important we are wrapping up warm when dog walking. When Blacks and Millets got in touch and asked us to try some of their outdoor wear, I was happy to oblige!
All About The Dogs
Monty is our 18 month old Boxer. He's white and about as needy as dogs get. He loves people, and hates being alone. As I type this, he is curled up to my left, giving it zzz's. Monty loves balls, sausages, kisses and cuddles the most. He loves walkies but has awful recall. This means he has to stay on the lead most of the time, as he loves to shower everyone he meets with slobbery kisses! Monty is such a clingy boy, we got Minnie, our second boxer – in the hope he'd be less needy… It backfired!
Minnie is our 15 month old Boxer cross. She is a rescue pup, and is the polar opposite of Monty. Minnie has a wheat intolerance, but this doesn't stop her stealing food every chance she gets. We call her "Minnie the Minx" because she is always up to no good! In the past month alone, she has destroyed my 1 day old memory foam mattress, ripped the extractor pipe off the back of our new tumble dryer, destroyed both Sam and Syd's favourite toys AND eaten my glasses. Minnie loves walkies, balls, chewing and causing mischief the most. Interestingly, she very rarely barks – unlike Monty, who is rarely quiet when he's awake!
It's a good job they are cute!
Why Boxers?
We picked boxers because my hubby grew up with one and was adamant no other breed was an option. After 2 years of me saying they were too big and bouncy, I gave in…. I am SO glad I did! They are definitely the only breed for me too now! They may be big and bouncy, but they are loyal, cuddly, loving and amazing with the kids – especially our Autistic son, Sam!
Monty and Minnie need a LOT of exercise. The days when Minnie causes the most trouble are the days when she doesn't get her walk until later on. I find having dogs encourages me to get out and about a lot more. This definitely improves my mental health. I love exploring local woods, forests and country parks. Somehow, this was never high up on my to do list before we got the dogs. Having dogs means I get to spend much more time getting fresh air, meeting new people (and dogs) and keeping active. Happy Days!
Wrapping up warm when dog walking
If you're looking for dog walking clothes, you definitely need to carry on reading!
I am a big fan of thick, warm coats. The TECHNICALS Women's Polar Parka definitely ticks that box! It is available from Millets in their women's winter jackets collection. There are 3 things in particular I love about this coat… Firstly, the hood is massive. I have a large head, and it's very rare for the hood on a woman's coat to fit me. There is plenty of space inside this hood – look!
There's a velcro strip on the back of the hood so you can make it smaller, if your head isn't quite as large as mine too. The second thing I love is that it has concealed cuffs. You can just about make these out in the above photo… I have left the velcro sleeve fasteners open, and you can see a cuff pointing out. This is sewn into the coat, so you will stay nice and warm, even if you don't velcro the sleeves closed! The third thing I love is that this coat is really warm, water proof and breathable – HAPPY DAYS!
I have owned quite a few high end outdoor coats over the years, and this is one of my favourites. I love that it looks feminine yet it is really warm and practical. The dog lead wrapped round my neck is not included with the coat, and is an optional accessory. It definitely comes in handy when wrapping up warm when dog walking, though!
My Walking Boots
My Women's hiking boots are really comfy. I am usually a size 7.5, but opted for the women's size 8 to allow room for thick walking socks. This was definitely a good idea.
My feet are pretty wide, and these were just about right for me. If you have wide fitting feet, it's probably a good idea to opt for the men's version of these, as they are wider fitting. (I know this because my hubby got these Men's hiking boots).
The tongue is sewn into the side of the boots, which means water won't get in through there. They are fully waterproof, and feature a shock absorbing midsole, which definitely makes walking on uneven terrain easier. I take the dogs off into the woods a lot, along trails and paths which are definitely not suitable for those with mobility problems. I find it really hard walking these trails in my wellies, but I got a new personal best lap time wearing these boots. (4 minutes faster than my usual walk pace – probably thanks to them being lightweight).
These Boots Are Made For Walkin'
My women's walking boots are on the left. Hubby's men's walking boots are on the right, in the above photo. His are much darker than mine, and are also fully waterproof. Hubby's boots are also breathable – perfect if you're prone to sweaty feet. He tells me they are really comfy, and he loves the fact the tongue is sewn into the boot, so it won't slip down. He tells me there's room for thick socks, but they still feel comfortable with his usual socks on. This means they are super versatile, and perfect for Summer, as well as wrapping up warm when dog walking.
Layers Layers Layers
Hubby has an allotment, so needs to have layers, rather than one super thick coat. I bought him this Berghaus fleece for his birthday to wear underneath his new men's waterproof jacket. (Pictured below).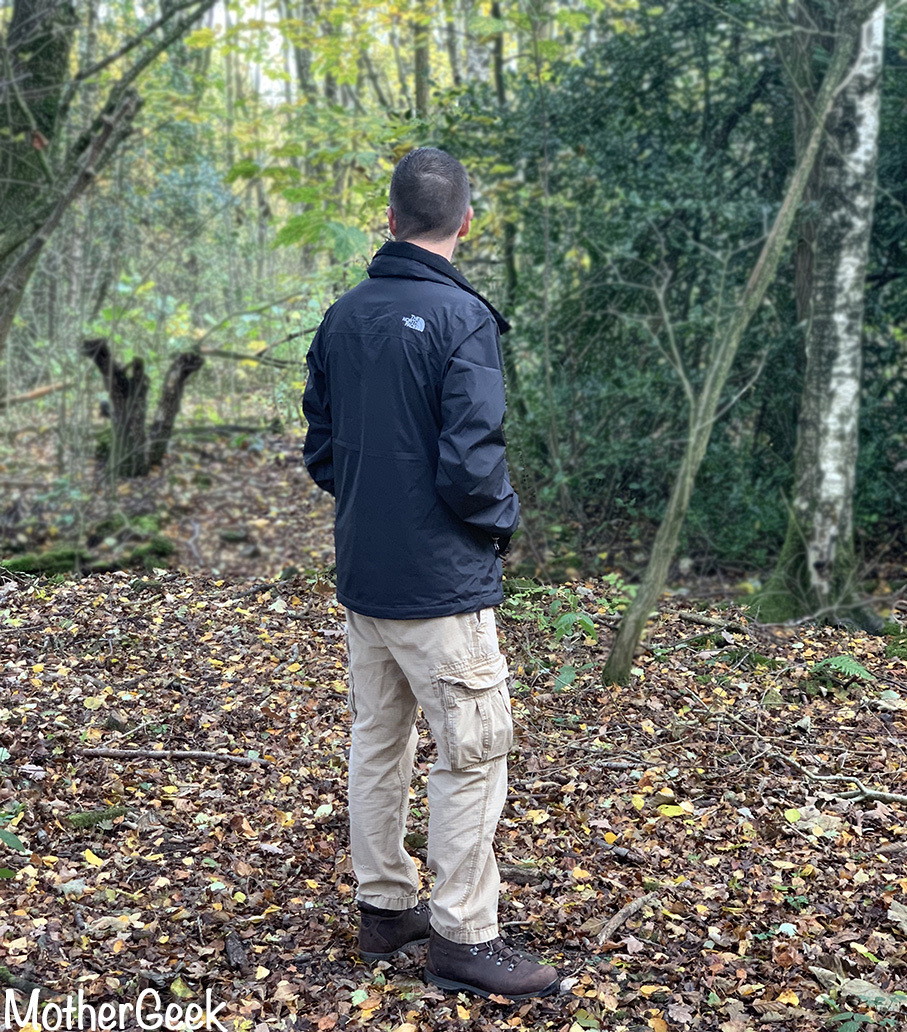 The fleece won't attach to the jacket, but the two will keep him warm when worn together. Hubby loves that the hood can be concealed on this jacket – he's really not a fan of hoods.
According to hubby, the Resolve 2 jacket zips up on the "wrong" side. This seems to be the case with all The North Face coats though. Hubby says this jacket is warm enough to do the school run in with just a t-shirt underneath at the moment, and he thinks it'll be fine all winter with his fleece on as well. The velcro storm flap helps to stop the wind getting in, while the breathable driven technology helps keep you dry. Hubby said it's a great waterproof jacket, and the size small fits him with room for his fleece as well.
Hubby hates showing his face in photos, so I have borrowed a photo of the Men's North Face waterproof jacket from the Millets website – I hope they don't mind!
As well as these items, I will definitely be digging my waterproof trousers and thermal socks back out. I think hubby needs some waterproof trousers too – he hates it when the dogs get him muddy! If you've enjoyed this post, why not check out more of our blog dog adventures here. You can also check out Monty and Minnie's own social media channels on Instagram and Facebook.
What are your must have clothing items for wrapping up warm when dog walking?
The brands included in this post asked for our opinion on the products featured from their range. All words and opinions are our own.