If you read my blog regularly, you'll know that I love camping. Back in 2018, I bit the bullet and took my then 6 year old daughter camping by myself. Solo parenting camping was an experience and a half, but well worth it! My confidence grew, and I took my Autistic son Camping. Once he was a fan, I took both kids camping by myself as well! Last year, we really missed camping, so when I heard about the Big Little Tent Festival, I had to share it with my readers!
The Big Little Tent Festival 2021
Big Little Tent Festival (BLTF) has been organised by the Caravan and Motorhome Club. It's essentially an "at home" camping festival, which is happening over Easter weekend – from 2-4 April. It's a great excuse to dust off the camping gear during lockdown. There's loads of ways to get involved, and camping at home is also a brilliant way to prepare kids for camping.
Camp Out At Home
If you've already got a tent, why not pitch it in the garden? Get the fairy lights out or print off the free BLTF bunting, included with the free BLTF Activity Pack, to really get the festival vibes going! There's free printable festival bands, activity sheets and more. Whether your kids like painting, creating bug houses, or stargazing… there's activities to suit everyone!
If you don't have a tent of your own, you can still join in with the BLTF. Why not create a den in the living room? Whether you throw a sheet over the dining table, use the clothes maidens to make a frame for bedsheets, or drape blankets over the sofas… There's loads of ways to make a den. The kids won't care how pretty it is (or isn't)… The adventures happen within the den (or tent)!
Join In The Big Little Tent Festival Fun
If you join in with the BLTF, there's some great prizes up for grabs. Firstly, there's a chance to win a Vango Tryfell tent worth £220, courtesy of Cotswold Outdoor. There's also the chance to win two children's bikes, courtesy of Raleigh, worth £350 each.
Be sure to check out Twitter on 31st March from 7-8pm for the #BLTF21 Twitter Party too! I'll be joining in & helping raise the profile of this brilliant event.
Big Little Tent Festival Camping Activities
My son is 9 and Autistic, so he's rarely far away from his tablet. That's not stopped me getting excited about all of the fun camping related activities BLTF have got scheduled though…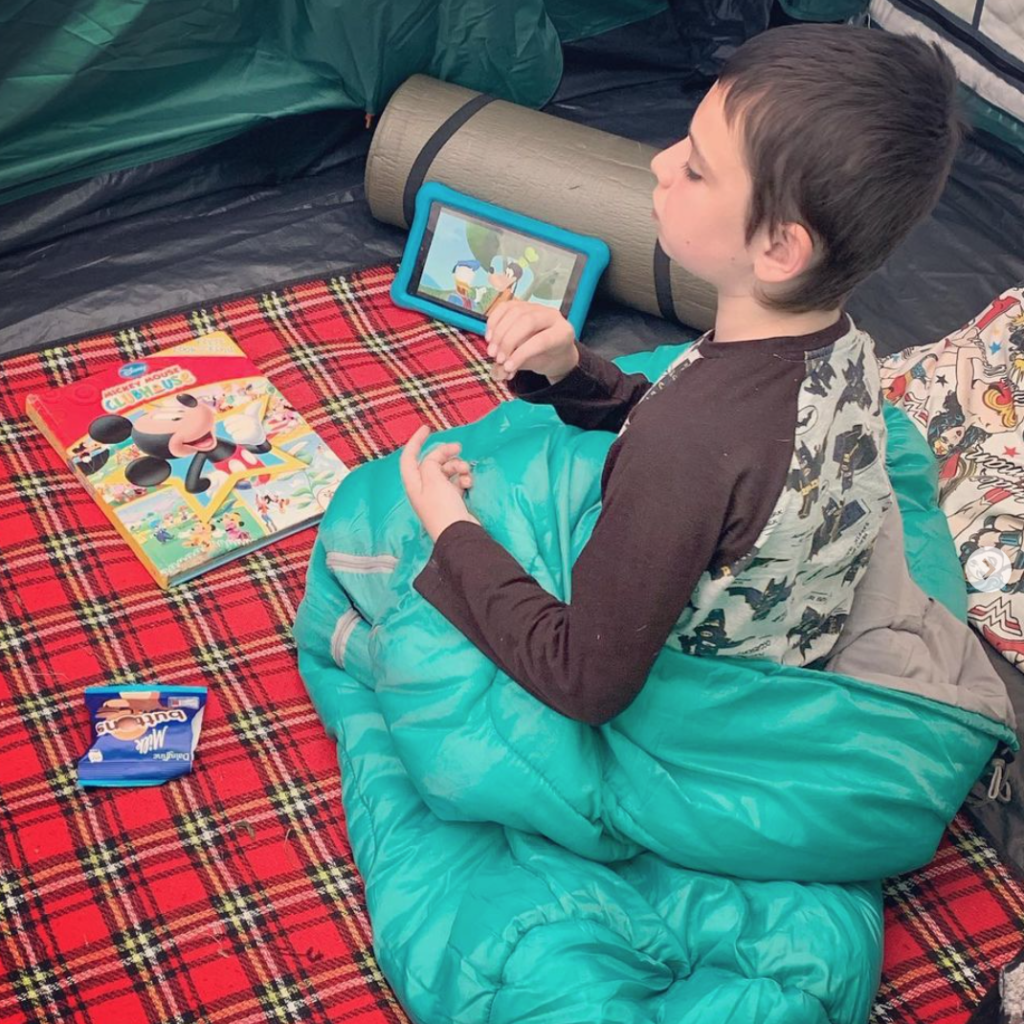 Firstly, you can join their Zoom party to meet The Mermaid Princess and the Friendly Neighbourhood Hero. There will be games, superhero training, and a campfire song. Additionally, your family can also take part in the BLTF Facebook live children's quiz, enjoy bushcraft… Plus so much more! You'll find all the information you need on their Facebook page.
Our Plans For #BLTF21
The back garden at our house isn't secure, so unfortunately we can't camp out there overnight. Our family tent is too big to pitch in the lounge too, so it'll be a den camp out for us. We've got a couple of den kits, so I'm going to get out all of the blankets and make a large den in the living room. I'll be getting the kids to muck in making the bunting and I've got some fairy lights for inside the den.
Making S'Mores Indoors
I've bought all we need to make veggie and gluten free S'mores, so we can all enjoy S'mores when we camp out.
(The below photo of Syd inhaling a S'more is from 2019, when we last went camping).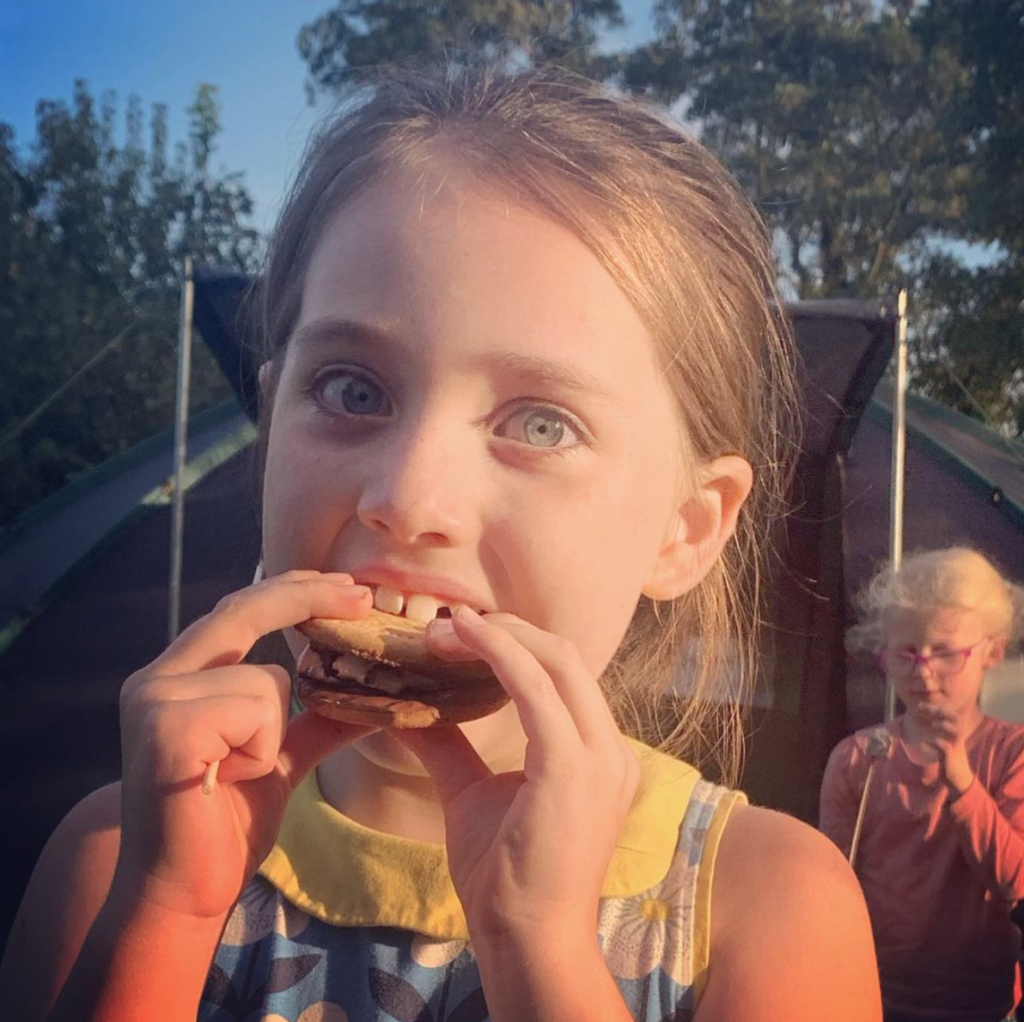 Planning Your BLTF Weekend
If you decide to get involved, you can make your "camp out" as big or small as you like. A Den in the living room, or your full camping setup pitched in the garden – it's entirely up to you. The Big Little Tent Festival has created these super helpful checklists for indoor and garden camping… Which one will you be using?
The Caravan and Motorhome Club have loads of sites which offer camping, as well as caravan pitches. Not to mention Glamping as well. So it's worth having a look and considering joining, even if you don't have a Caravan. Finally, I've already covered it but it's worth another mention… Be sure to check out the #BLTF21 Twitter Party on 31st March from 7-8pm!