I was recently sent some MaterniCare Pre and Post Natal Nourishing Cream to try. It is designed for use during and after pregnancy. It is Hypoallergenic – perfect if you've got sensitive skin like I have!
What's In MaterniCare Pre and Post Natal Nourishing Cream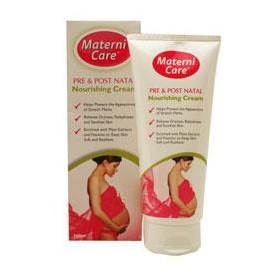 MaterniCare is loaded with Pro-Vitamin B5, Almond, Avocado, Grape Seed Oils and Vitamin E – all help your skin to stretch those extra 2 square feet during pregnancy, and then shrink back again once your baby has arrived. It will help prevent stretch marks, and keep your skin hydrated, nourished and it helps combat itchiness which is common in pregnancy too.
More About My Stretchmarks
I have always been a yo-yo dieter. I was a size 12 at 16 years old. My weight ballooned along with my dress size to a size 20 when I was 24. By the time I was 26, I'd got down to a UK size 10. At this point, I had plenty of silvery stretch marks and loose skin around my tummy. So when I got pregnant, my bump had plenty of skin to grow into. When Sam was born in 2011, I didn't gain any new tiger stripes, but was 2 stone heavier by the time I got pregnant again. This has meant my 2nd baby bump is bigger and my skin is more stretched.
Stretch Marks FAQ'S
Stretch marks affect up to 90% of pregnant women, and are most common on your bump, thighs, breasts and hips. Applying a moisturiser regularly helps to boost your skin's elasticity and prevent stretch marks.
I've been rubbing MaterniCare Pre and Post Natal Nourishing Cream into my bump twice a day for 3 weeks now. I don't have a single stretch new mark! (I can't say for sure if that's down to the MaterniCare, but my skin definitely feels softer). It smells great, and isn't oily either, so I will definitely be getting some more.
MaterniCare has an RRP of £14.99 for 200ml, so is cheaper than many other maternity moisturisers, too. If you've enjoyed this post, find more of my reviews here.