It's no secret that I'm a geek. Even my blog name draws attention to it. So when I was asked to review Madame Tussauds Blackpool with kids, I was happy to agree! The last time I visited a Madame Tussauds attraction was London, back in 2002, so I had no idea what to expect from Blackpool. I took 7-year-old Syd and 8-year-old Sam along. We met up with my friend Bex and her daughter Leah too.
Visiting Madame Tussauds Blackpool With Kids – Location and Price
The location of Madame Tussauds Blackpool is super easy to find. It is right on Blackpool Promenade, just before Central Pier when heading away from the tower. We were able to park in the car park directly behind the venue, where we paid £7.50 for 6 hours of parking.
Walk-up prices for Madame Tussauds Blackpool are £18 per adult, £15 per child under 15, and under 3's go free. If you book online, you can save 15% on those prices though. If like us, you're a special needs family, one carer goes free with each full paying disabled visitor. Merlin Annual Pass holders can of course visit for free – as long as the venue is covered by your annual pass.
Visiting Madame Tussauds Blackpool With Kids – What To Expect
Once inside the attraction, it quickly becomes dark. This left the kids feeling uneasy for a minute or two, but they quickly calmed down…
As we walked around, there were quite a lot of wax figures the kids didn't recognise. This was a great opportunity for us to educate them though. Everyone should know who Muhammad Ali is, after all – don't you think?
Football's Coming Home
There are quite a lot of football's finest to see at Madame Tussauds Blackpool. Sam took a seat next to one of Blackpool FC's legends, while I got up close with Rooney. We both wanted to hold the World Cup, though! While we were doing this, the girls were off playing the interactive penalty shoot out!
There were lots of interactive activities as you walked around the venue. At Sporting Heroes Academy, the kids loved the Laser area and the climbing wall. The wall had a video projected onto it, and you had to climb around the wall and tap the purple bat.  Both of the girls would have spent hours on this. It didn't make for the greatest photos, though…
MARVEL SUPER HEROES
All of the kids enjoyed the MARVEL SUPER HEROES area of Madame Tussauds Blackpool. Before you enter this area, you walk through a comic book area. Sam took a real shine to those, and would have spent ages studying the images, had the girls not ran on ahead.
Once you go into the main MARVEL SUPER HEROES area, it is dark and very noisy. Sam (who has Autism) handled it really well. The Hulk was huge, and the scene around him included the front of a New York taxi, which was light enough for you to lift. Sam decided to pose in front of it instead though. (Pictured below).
I wasn't even slightly surprised when Sam took a real shine to Groot. He's a big fan of the outdoors and trees, so he went straight over and held his hands. It was very cute! I have to admit, I'm more of a DC Comic fan myself – Batman is my favourite. That didn't stop me swooning over Thor though…!
Doctor Who
The new Doctor Who area is really cool. It was great seeing the first female Doctor up close. Unfortunately, it was really busy in this part, so the best photo I could get was me pretending to enter the Tardis myself! I can imagine if your kids are into Dr. Who, you could get some amazing photos in this area. The set design was brilliant.
A Swift Half At The Rovers
About halfway around the attraction, you come to The Rovers Return. This is, of course, the Pub from Coronation Street. The Rovers in Madame Tussauds is kitted out just like its' on-screen twin, and it serves real drinks and snacks too. While we were all indulging in a swift half, Bex snapped a few photos for me…
My mum loved Coronation Street, so I know she'd have loved this area of Madame Tussauds Blackpool, had she visited in her lifetime.
There were plenty of accessible lifts and the entire setup was roomy enough to allow wheelchair users to visit without any trouble. In fact, there were at least half a dozen wheelchair users in the attraction when we visited.
Nature Calls
Sam loved the area with the Sir David Attenborough Wax Figure in. The nature sound effects and set were definitely his favourite part. He took a real shine to Sir David, too.
Sir David's Wax figure was definitely one of the most realistic, in my opinion – check out the fine detail…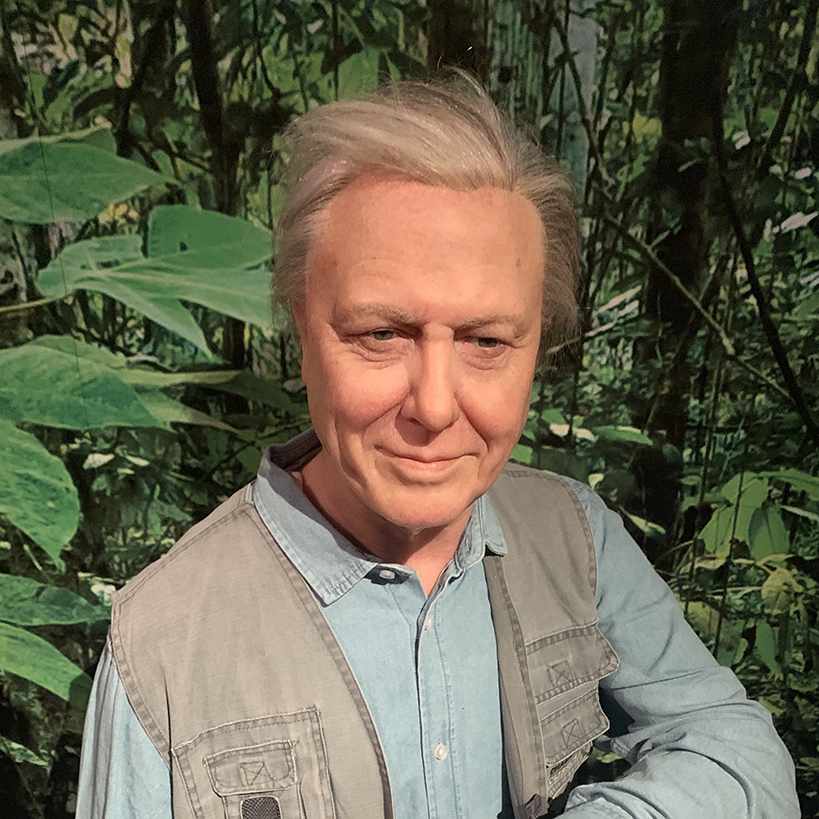 Into The Jungle…
The I'm A Celebrity area definitely seemed to be a favourite area for the mums! As well as sitting with Ant and Dec, you can also cross the bridge into and out of the jungle, and try your hand at some Bush Tucker Trials. The kids all enjoyed having a go at these – as did the grown-ups!
Music Makers
As we walked around the music area, there were plenty of stars the kids did recognise (and love). Here are a few of my favourite photos – how many of them do you know?
As you can see, the kids all had a great time in this area. Another place they loved within Madame Tussauds Blackpool was the Mirror Maze…
The girls insisted on a photo of them both looking scared, but they laughed and giggled all the way through here! Once we got to the other side, it was time for a souvenir seaside snap…
Syd is pretending she's asleep, while the rest of us have a jolly good time! Poor Bex was stuck behind the camera.
My Thoughts On Visiting Madame Tussauds Blackpool with kids
We spent a good 3 hours in the attraction, and all of us had a good time. A few parts were a bit scary for Syd, but I would say "brave" kids over 6 will enjoy the attraction. I loved that it was somewhere with plenty to keep adults interested as well as the kids. So often, days out are just for the kids… This made a refreshing change!
I would definitely recommend it as a great place to visit during the Summer holidays. Finally, why not check out more of my local reviews and venue ideas here.