If you read my blog regularly, you'll already know I'm a big kid. Any excuse to have fun is right up my street. So when I was asked to do a Face Paintoos Party Pack review, I was happy to agree. Read on to find out how we got on.
Face Paintoos Party Pack Review
Face Paints work in the same way as transfers do. Once you've chosen your design and cut out the sections, follow these steps… Firstly, you peel off the backing. Secondly, you place the sticky side against your skin. Next, you wet the back of the paper with the included sponge and then finally, you lift off the paper. The overall effect is brilliant. When I first saw the packaging, I was dubious the finished result would be as good as the box claimed.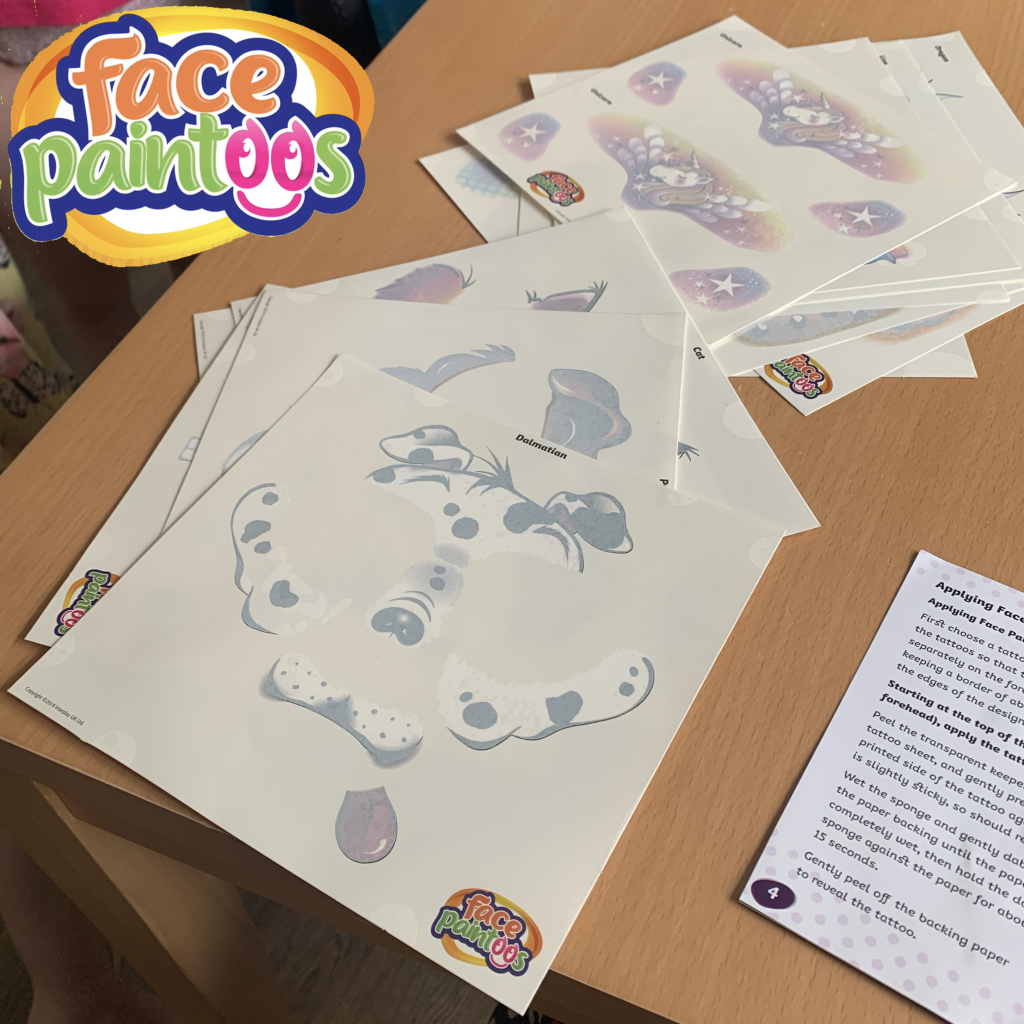 What's in the box?
Inside the box, you'll find 3 packs of face paints. The Magical pack contains Forest Fairy, Dolphin with rainbow, Butterfly, Blue Mermaid and Unicorn designs. Additionally, the wild pack contains Tiger, Monkey, Leopard, Lion and Dragon designs. Finally, the pet pack contains Puppy, Rabbit, Dalmatian, Cat and Mouse paintoos. You'll also find an applicator sponge, Tattoo Removal wipes and Instructions.
Face Paintoos Party Pack Review – How They Work
If my written instructions didn't explain it fully, check out this video…
Application Tips
After applying several designs, I realised there were a few things you could do to get the best results… Firstly, trim the design as close to it as you can. Secondly, before picking a design, make sure it fits on the recipient's face. (Syd wanted the Dalmatian, but I realised too late that the design was too big for her small forehead. This meant it overlapped her eyebrows and didn't stick down fully.
As you can see in the above photo, Syd's friend Leah opted for the mermaid design. This fitted her face perfectly, and the finished result is flawless.
My Thoughts
I have really sensitive skin, so I put a Face Paintoo on myself too – just to check if it was suitable for those with sensitive skin, of course! I am happy to report they didn't irritate my skin. If you're worried, it's probably worth doing a small patch test somewhere not visible before applying it to your face.
Removing Face Paintoos was really easy too, thanks to the included removal wipes. I was dubious and thought this would be a lot harder than the above video made out. However, I managed to remove Syd's dog face in under 1 minute!
Face Paintoos Party Pack is suitable for children aged 4 and over, and the paints need using within 6 months of opening. The pack we were sent has an RRP of £20. The individual packs, with 5 paintoos cost £9.99 each. All told, I think they are great quality and great fun. I'd highly recommend Paintoos for some fun with the kids!
Finally, if you found this Face Paintoos Party Pack review useful, check out my other reviews here.