If you read my blog regularly, you'll know we are a pretty geeky family. The kids both love their tech, but aren't fans of excessive noise. Now that Syd is home schooling, it's been a challenge getting her to focus on the task at hand when there's so many distractions at home. So when Puro got in touch and asked me to do a PuroQuiet noise cancelling headphones review, I was happy to agree. Read on to find out what we thought of them.
PuroQuiet noise cancelling headphones review
With an RRP of £99, the PuroQuiet noise cancelling headphones are definitely not cheap. I was sent two pairs of these headphones – one each for Sam and Syd. A Blue pair and a Pinky Purple pair. So Syd immediately claimed the blue pair as her own. The quality of the packaging is high, and I was impressed by the included carry case. That definitely makes transporting them between her Dad's house and mine less challenging.
What Puro Sound Labs Say
When researching for this PuroQuiet noise cancelling headphones review, I realised just how much technology is packed into these headphones…
The ANC switch means kids can listen clearly, even in loud environments… Without the need to increase the volume beyond safe sound listening levels. It's almost as if the rest of the world is put on mute, when the headphones are put on. According to Puro, these headphones make daily noise and background sound up to 22 dB quieter. This is complemented by 82% noise isolation.
What's In The PuroQuiet noise cancelling headphones Box
As well as the headphones, you also receive a hard carry case, instructions, charging cable and 3.5mm limiter audio cable. This is so handy for the devices which don't support a wireless connection.
The headphones do need charging as soon as you receive them. So if you're buying these as a gift, it's worth opening and charing them before wrapping. Thankfully, the packaging allows this, so they will still look brand new when opened.
My Thoughts
Honestly, I don't understand the jargon but when she was wearing them… 8 year old Syd thought I was miming, rather than talking when I was asking her what she wanted for lunch.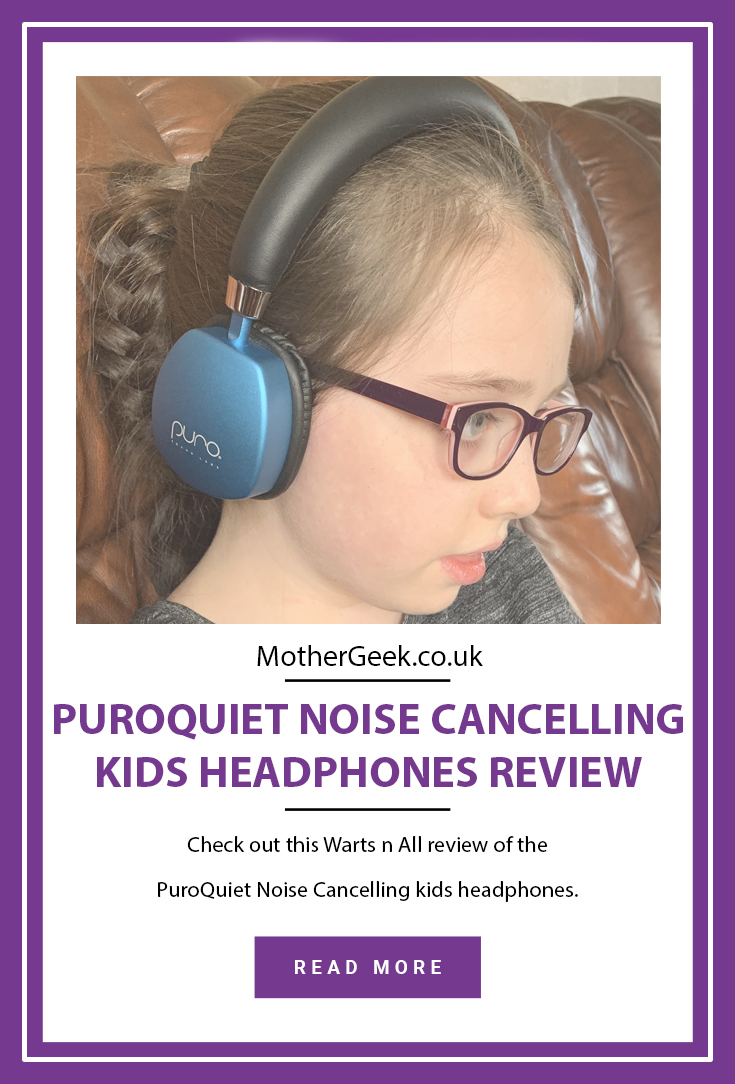 The wireless range is 32 feet (or 9.75m if you prefer). This means Syd can keep her headphones on and walk away from her laptop to get a drink, without missing any of the audio from her class teacher.
With a battery life of up to 16 hours with audio cancelling activated, and 22 hours without, these headphones stand up well to daily life. I tend to charge them every other night at the moment, as she wears them for a good 4-6 hours a day. The included limiter audio cable means that even if the batteries do run out, Syd can use them via that.
When the headphones are charging, an orange light appears on the headphones. I did accidentally think they were charging once but the cable wasn't in right. So make sure the light is on when you connect them.
Syd's Thoughts
Syd loves the blue pair, but isn't a fan of the pink ones. (She hates pink though, so that's no surprise). She says they are comfy to wear and the sound quality is great. She's had them connected to her laptop and her iPad with ease.
It connects via bluetooth and according to the instructions… "The one-touch Bluetooth pairing with iPhone, Android, and other compatible devices makes for hassle-free listening". All told, I think the PuroQuiet noise cancelling headphones review has shown that these are a great option for kids.
Finally, if you're looking to spend less, but still want decent kids headphones, the PuroBasic Headphones are a great option, too.