If you read my blog often, you'll know that both of my kids are into tech. (Hardly surprising with me as their Mum, I know). So when I was asked to review PuroBasic Headphones for Kids, I was happy to agree. Read on to find out what I thought of them.
PuroBasic Headphones For Kids Review
With an RRP of $29.99, these noise cancelling headphones are good value. They limit the volume to 85db, so those small ears aren't going to be damaged by loud noise. The PuroBasic Headphones for kids are wired, so be sure your kids don't need wireless before opting for these. All kids are different, but Syd can't stand earphones, and prefers a full over the ear style.
Some Things Worth Knowing
This is what PuroBasic say about these headphones…
HEAR TO PROTECT – Ordinary headphones let kids jam out at any volume, including dangerous ones. Over time, those rocking volumes damage their eardrums and can even lead to noise-induced hearing loss. Protect your kid's hearing with the PuroBasic, the headphones that limit harmful volumes over 85 dB!

SOUNDS OUTSTANDING – Limiting the volume doesn't mean suffering through poor sound quality. Puro Sound Labs kid headphones emit crystal-clear sounds thanks to their advanced sound-optimizing Puro Balanced Response Curve.

COMFORT THAT ADJUSTS – No matter how long your kids wear these headphones, they stay comfortable song after song. Plush vegan leather covers the ear cups and headband in softness while the durable, yet lightweight plastic frame is flexible and adjusts to fit.
UNIVERSAL WIRED CONNECTION — Whether it is an iPad, iPhone, Android device or a computer, these headphones can connect to it all. Any audio device with a standard 3.5mm audio connection is compatible with the PuroBasics.

THE PURO PROMISE – At Puro Sound Labs, we strive to provide hearing protection for kids without diminishing their listening experience. We promise that your PuroBasic Volume Limiting Headphones offer superior sounds with premium ear protection, and it's all backed by a 1-year warranty.
What We Thought
Syd is almost 8 now, and spends a lot of time reading books and listening to music on her Kindle. She usually does this while lay on the couch or her bed, so wireless headphones aren't essential. Syd's favourite colour is blue, so she was thrilled with my PuroBasic colour choice! She said the headphones were super comfortable to wear. Syd also said she loves that there's a volume control on the cable, like on my headphones.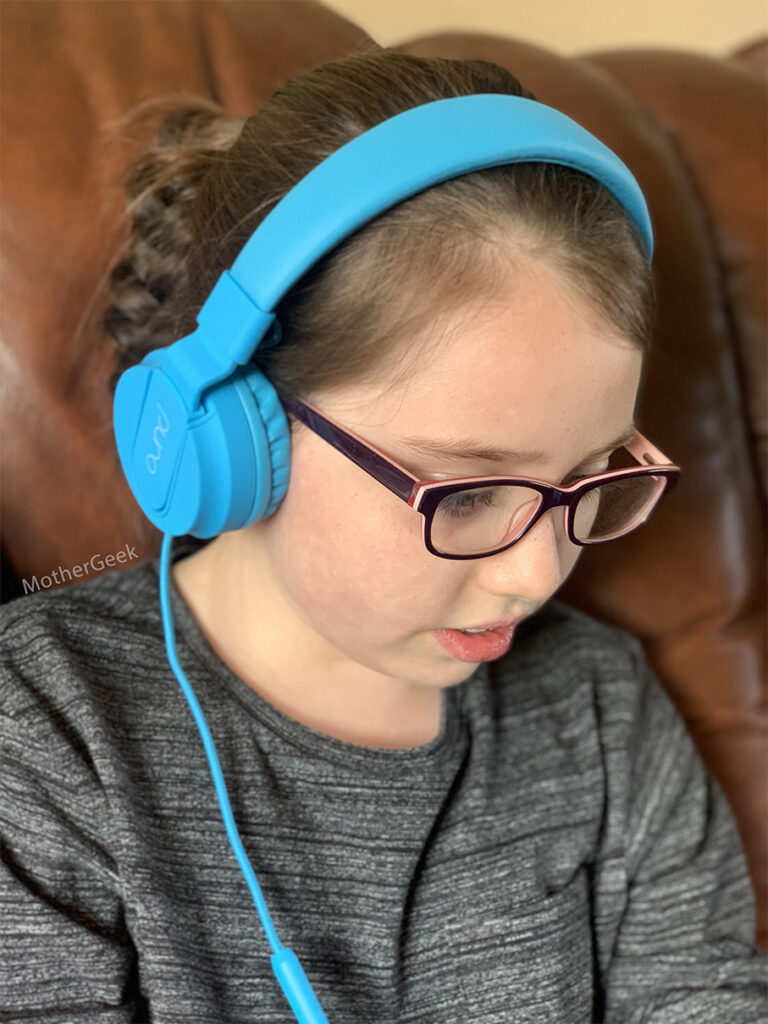 I was impressed with the fact they folded up so small. They also came with a fabric storage bag which means they can be stored safely too. The headphones are light enough for Syd to wear them without discomfort and they sit nicely around her ears. I would guess they will comfortably fit a 3 year old and up to around 10 years old. After that, they may get a little snug.
The 3.5mm jack is perfect for plugging into laptops, kindles and other gadgets. Make sure their device has a headphone jack though. My iPhone X for example is only compatible with bluetooth / wireless headphones.
All things considered, I'd definitely recommend these to someone looking for an affordable set of kids headphones which include a volume limiter. Volume limiting headphones are a game changer for lots of kids with special needs. Syd's brother, Sam is Autistic. I wish he'd put headphones on as they'd make a massive difference for him, in particular.
Finally, if you're looking for some decent Adult headphones, why not check out my Audio Klar review here.