I have been sharing other bloggers' Christmas Traditions in the run up to Christmas, and I figured it was time I shared my own family's… Life as an Autism family means we aren't exactly "run of the mill" when it comes to our Christmas plans and activities. We do have a lot of traditions though, so I will share some of our Christmas build up traditions today. I'll save our Christmas Eve and Christmas Day traditions for another post!
What Christmas Means To Us…
Neither Hubby or I are religious. We had a non religious wedding ceremony, and we don't believe in God. We don't celebrate the birth of Christ, but we do choose to celebrate Christmas in our own way. For us, Christmas is about appreciating the people and things we have. We love to give gifts, and time over the festive period. Father Christmas visits the kids when they have been good, too.
I've always been a big fan of Christmas, and none of my happy memories involve mountains of presents. They all involve spending time with people I love. One of my favourite memories is from when I was around 5, and I had received an A-La-Carte Kitchen. My older sister, who was about 14, and far too cool to play with her little sister most of the time agreed to play with me. The game went like this…. Pour all of my selection box goodies into the kitchen pans, "cook" them, and then serve them up to my big sis to eat.
Our Christmas Traditions.
I left school in 2000, and by the time Christmas rolled around, I was at college full time and working 4 days a week as well, so I had a decent bit of "pocket money". That Christmas, my Dad bought us a new Christmas Tree for the house. I decided to buy us some new decorations to go on it as well. This was the beginning of the Christmas build up traditions for me.
New Tree Ornament…
Every year, I'd get a new decoration for the Christmas tree. Once I became a mum, the tradition morphed into "Everyone gets a new special decoration each year for the tree". The idea behind this is that once the kids are ready to leave home, they'll already have a box of Christmas Ornaments for their tree, which will be crammed with sentimental value. I hope they will continue this as part of their own Christmas build up traditions.
Book Advent…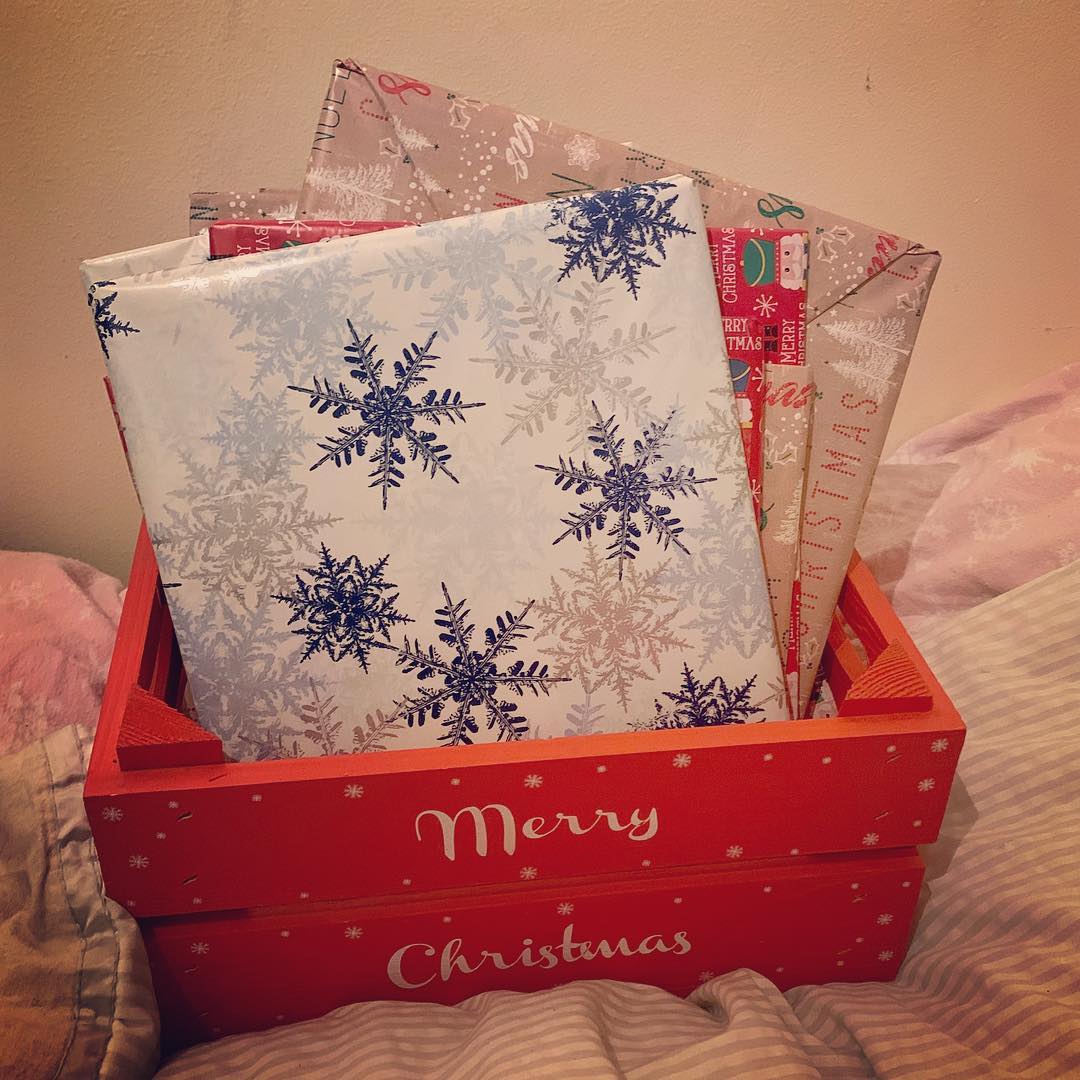 For the past 4 years, I have done the kids a Book Advent every December. This involves me finding and wrapping 24 festive books, and the kids opening one a night for us to read together. This is a brilliant way to spend a little extra time together every day of Advent. The books don't have to cost a fortune either. Read more about our Book Advent here…
Elf on the shelf…
Unless you've been living in a cave for the past 5 years, you've probably seen and heard plenty about this tradition – It seems plenty of people have added this to their own Christmas build up traditions! This is our 5th year of Elf on the shelf, and as much as it's a pain when you forget to move him, the excitement he brings is worth every 2am get up!
The idea is the Elf is watching your kids' behaviour and reporting back to Santa every night. When he arrives back at the house, he finds somewhere new to sit. The elf isn't allowed to move or talk when he's on duty, and you cant touch him or he loses his magic. Sometimes he's naughty and causes mischief. Other times, he brings the kids treats. If the kids are really misbehaving, he puts them on the naughty list and returns to the North Pole. You can see all of our Elf On The Shelf 2018 adventures here!
Visiting Santa…
Every year except last year when we were all poorly, we have visited the big man in the Christmas build up. We have our annual family photo taken with the big man too. Sam's Autism means this can sometimes be a hard experience for him. Sam seems to love Christmas though, and is more patient than he is throughout the rest of the year.
Reverse Advent…
The final of our Christmas build up traditions is our Reverse Advent. The idea is that each day of Advent, you pop an item into a box or bag to take to your local food bank. We followed this to the letter in 2016, but have deviated a little each year since then. Each year, we get a bag of items and drop them into the local food bank collection point. We also donate toys to our local toy appeal, collecting items for disadvantaged or sick local children. I love getting Syd involved in these two activities as I feel it shows her how good it feels to give, and also helps her understand that it's not about how many presents you get.
I think it's fairly safe to say that I am a big fan of the Christmas build up. I've probably got my Dad to thank for that! Are you a big fan of Christmas? I'd love to know your thoughts!